The Beauty of Imperfection has primarily focused on women who have recovered from life-threatening eating disorders. I felt it important to shed light on the fact that despite only focusing on one specific group, body positivity is for everyone.
(Some listeners may find distressing)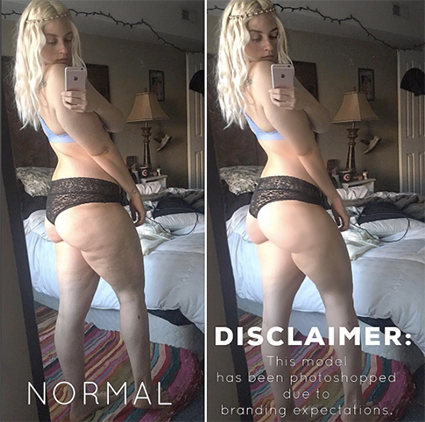 Kenzie Brenna posts photos of her cellulite almost every day, something that she says most women feel very uncomfortable talking about. She writes on her Instagram, "Cellulite is not an indication of health, wellness or quality of life. It is the appearance of fat cells. It is only a cosmetic issue in OUR culture and it happens to be on 90% of women! It is seen as wrong because of the expectation WE put on women to have thin, smooth, light, young looking bodies. It isn't anything to be ashamed of and it isn't anything for you to hide."
Kenzie recently set up a youtube channel discussing cellulite and plenty more. Check her videos out below.
Similarly, Body Confidence Coach, Michelle Elman freely shares photos of the scars on her stomach that we heard about during the audio piece. Michelle used to hate her scars, the result of 15 surgeries, leaving her feeling insecure and unworthy of anyone's attention.
Today, she embraces them with open arms and through her work on social media, started the campaign #scarrednotscared. The movement was born out of Michelle's desire to start a conversation around surgery scars and the side effects operations can have on a person's life. By the age of 20, she'd had a brain tumour, a punctured intestine, an obstructed bowel, a cyst in her brain and a condition called Hydrocephalus.
Today Michelle invites anyone with a scar, psychical or emotional to let go of their insecurities and live life as it should be lived.
Below, see the official video for #scarrednotscared.
[one-half-first]
---
Find out more about the Beauty of Imperfection Project:
Explore the Multimedia Beauty of Imperfection Blog
Read the Beauty of Imperfection feature
Watch an interview with plus-size model, Essie Dennis
Ask Anastasia
View our 'Describe Your Body in Three Words' Video
[/one-half-first] [one-half]