The health minister is to write to the NHS to end the postcode lottery for IVF treatment after concerns were raised in the house of Commons.
Nicola Blackwood stepped in following a debate in the house of commons on IVF availability across the country.
Cuts to local Clinical Commissioning Groups (CCGs) mean that couples in some areas are entitled to three free cycles, while others get none.
Women in England are entitled to three cycles, women under 40 in Scotland and women in Wales are entitled to two cycles, and Northern Ireland are entitled to one cycle.
Labour MP Steve McCabe said treatment was "subject to the whim" of local health chiefs and wants all women under 40 to be offered three or four cycles.
He added: "Some people were forced to go abroad for treatment as a result". The MP wants to see a national standard of care".
>>>Live updates on the latest from Bournemouth, Poole and Christchurch
Story continues below…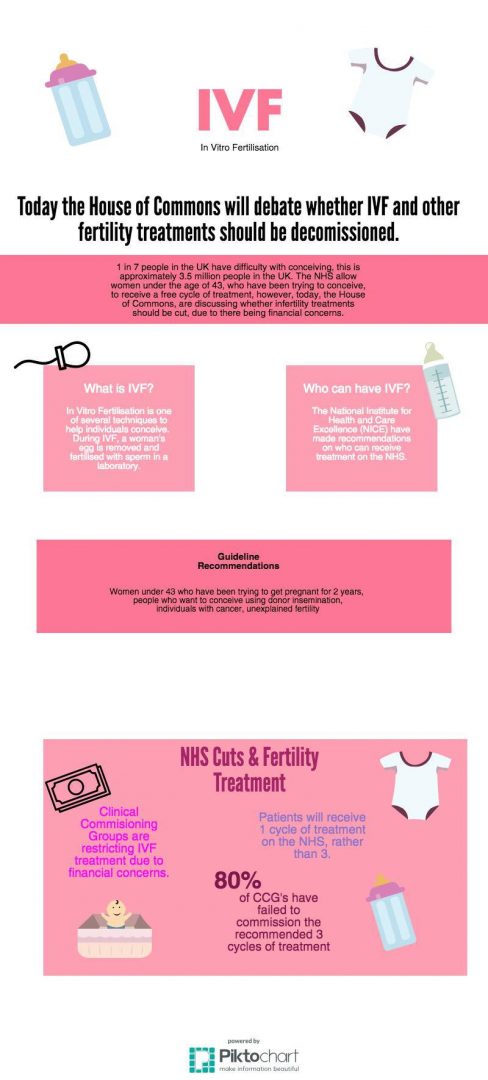 The National Institute for Clinical Excellence (NICE) recommends that couples who have been unsuccessful in conceiving after two years should be offered three full cycles of in vitro fertilisation for women under 40, and one cycle for women between 40 and 42. However, these are guidelines, and Clinical Commissioning Groups are not legally required to implement them.
According to Fertility Fairness, 35 CCGs offer three cycles of IVF to women under 40, but just four CCGs out of 209 offer funding for fertility treatment which is fully in line with the NICE guidelines.
Mr McCabe also said the government need to hold "clinical commissioning group to account" if they do not offer these trials.
MPs have said the IVF postcode lottery, which means where you live can effect whether you received IVF fertility treatment on the NHS, is "adding insult to injury".
McCabe wants the government to bring the cost of treatment under control. It currently costs between £1,300 – £6,000 for a single IVF cycle.
"The amount of money that's being wasted on commissioning and on these different versions of commissioning is just money down the drain so it would be much better to set a national tariff for IVF treatment."
Roj Grewal from Health Watch Hillingdon, a health and social care watchdog said the cost of IVF shouldn't vary and asks for a "single nation tariff". He wants an "equality of access" regardless of who can afford it.
He added that the debate is a move in the right direction but NICE guidelines which state these suggestions have been published for a while. It is not "acceptable for couples to wait for the government to enforce it".
He hopes the playing field is made even across the UK when it comes to IVF.