Dorset Chinese Arts Society gave the Chinese New Year an all-singing, all-dancing start Wednesday evening at the Bournemouth Life Centre.
The Mayor of Bournemouth, Edward Coope, welcomed everyone to the evening, which was also a fundraiser for Bournemouth's YMCA charity. The show was a lively mix of traditional dance performed by the DCAS, chamber choir, orchestra and singing. The night's special performances came from Nantou Primary School. A brass ensemble led by Mr He Ying and two children's choirs performing in traditional costumes gave a beautiful performance, leaving the audience impressed with their skills.
Ms Zhang Jin, the headmistress of the school, was looking forward to seeing children's performances. The charitable evening would be completed by successful performances. Despite the choir and band being a hobby for the children, they were very determined to do well on the night.
"Music and art really enrich their lives, and help them also when pursuing a career elsewhere", Ms Jin said.
The children were excited to see the UK, but this wasn't the first time for them to be performing abroad: last summer, the Mr He Ying's orchestra had performed to the UN at the Lincoln Centre. Now, he wanted the audience, whether they were familiar with the Chinese traditions or not, to feel like they were among friends:
"We want to establish a friendship through the music."
Dorset Chinese Arts Society performed together with the principle and opera singer Xiaohua He.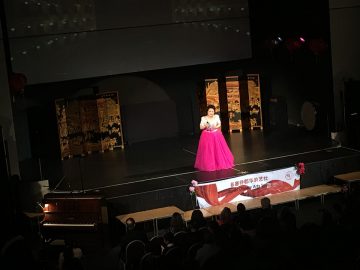 St. Luke's Church Choir also came to perform traditional carols.