Statistics have shown that the number of hate crime incidents have almost doubled in the Bournemouth area.
The number of hate crimes in Bournemouth have almost doubled within the last year, new figures have revealed.
The statistics released by Dorset Police report a 42 percent increase in these crimes within the last year, rising from 64 to 91.
There has also been an eight percent increase in the number of domestic abuse cases reported, and a 10 percent rise in anti-social behaviour crimes.
Hate crimes have now been added to the 2017/18 priority list for Bournemouth and Dorset.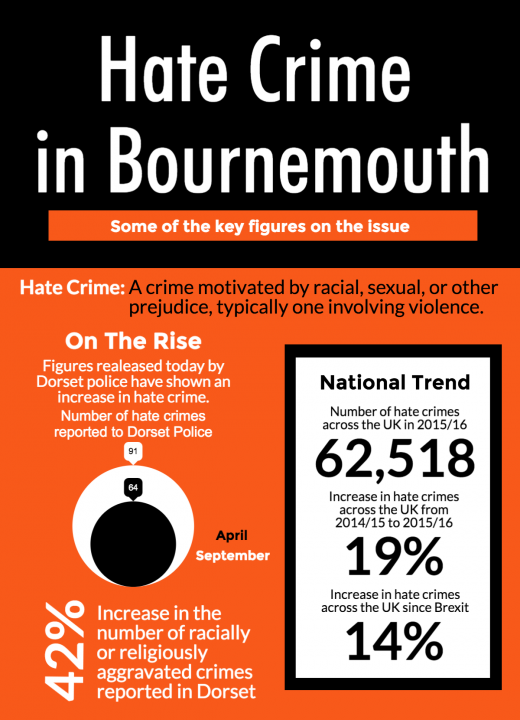 Community safety manager, Andrew Williams expressed his concern in a meeting held last week.
He said: "Hate crime is something we need to raise in profile so victims know they can come forward and report these types of incidents as a crime."
A hate crime can be defined as a crime motivated by racism, sexism, or other prejudice. Crimes of this natures often involve violence.
Figures have shown a 14 percent rise in the UK since Brexit.
Buzz News spoke to PC Andy Scarratt, who feels the increase in hate crimes are mainly due to people feeling more aware of the issue and therefore more likely to report the crime.
He said: "I think in relation to reporting, there has been a big drive in the last couple of years in regarding to people reporting the crime so you will see an increase. Maybe in the past people have not felt comfortable to report."
Dorset Police have also used social media and new technology to increase the awareness and reporting of hate crimes.
Citizens can now download a hate crime app on smartphones which makes it easier to report incidents.
Buzz News spoke to Poole councillor, Malcolm Farrell about the efforts to prevent hate crimes across Dorset.
Listen to the interview below.