New mothers have expressed concern over plans to close Poole Hospital's maternity unit.
Hospital bosses plan to relocate the unit to Royal Bournemouth Hospital as part of a proposal to make it the county's largest major emergency centre.
Alongside the maternity unit and paediatric service, A & E will also be moved to the Bournemouth site but Poole hospital will still provide major pre-planned care.
Mother of four, Tina Rose, used the maternity unit at Poole for all four of her births and would be disappointed if the unit were to move.
>>> Live: All the latest news from Bournemouth, Poole and Christchurch
She said: "I'm gutted that it might be moving because for women like me, who don't drive, Poole is the better option."
"I'm sure it's a nice facility but I just think Bournemouth is that little bit further out and if it's your second or third pregnancy it does go a lot quicker so having to travel that extra 20 minutes or more could end up jeopardising the baby".
Story continues below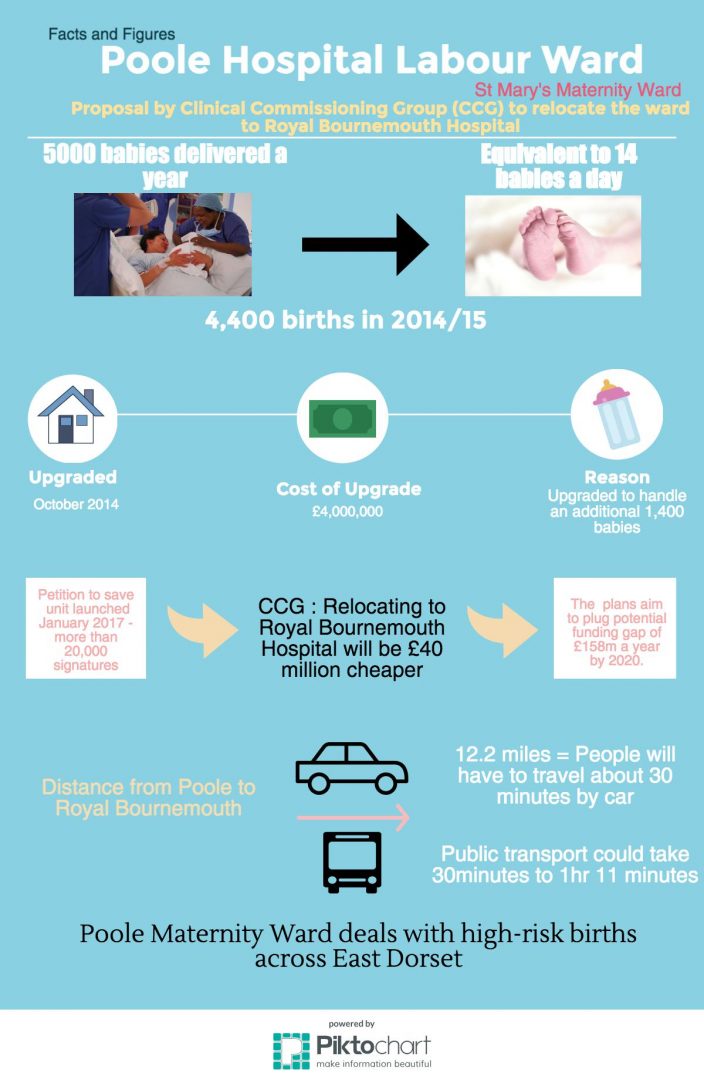 Luretta Spearing, from Corfe Mullen, was due to give birth at Poole Hospital but after being told the ward was full she was made to move to Bournemouth hospital.
She said: "I started getting pains in the middle of the evening and when we called the midwife unit they sort of put us off and I felt like they were trying to delay me coming in. When we called back later she said we couldn't come because the unit is closed. They were full. So we decided to go over to Bournemouth"
"The thought of Poole not being there, had I gone into labour earlier, we wouldn't have made it to Bournemouth. I would have had him on the side of the road."
Listen to more below:
Plans for the move have been scrutinised with protests being organised by Wimborne and Poole's Labour Parties.
Two protests will take place about the proposed closures in Poole at Falkland Square and at Wimborne Library on Saturday.
For more information on the proposed plans, go to https://www.csr.dorsetsvision.nhs.uk/major-hospitals/