A mother of two is raising awareness of brain tumours after being diagnosed with one at the age of 15.
After experiencing persistent headaches, balance and coordination problems, Lorna-Rose Samson, 26, from Wimborne was diagnosed with Pilocytic Astrocytoma in 2005.
Lorna said that naming her tumour allowed her to accept it as a part of who she was, saying "it took me two and a half years to be diagnosed with Derek, the name I've given my tumour."
Due to her symptoms being overlooked, Lorna believes that the campaign is significant not only as a brain tumour patient but as a parent too.
>>> Live updates on the latest from Bournemouth, Poole and Christchurch
She hopes the relaunch of HeadSmart's campaign will create change, and hopes that her raising awareness helps to bring down the brain tumour diagnosis time in children and young adults.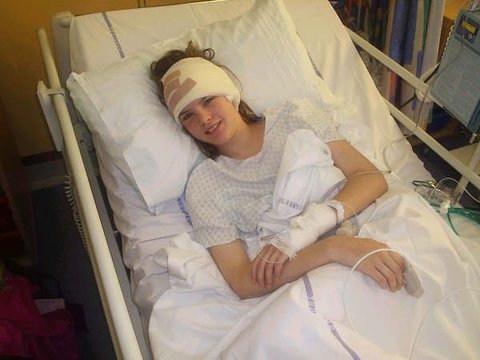 "The symptoms need to be recognised and hopefully that will stop people from having disabilities later in life."
And now backing the Headsmart's campaign, Lorna says her biggest inspiration are her two boys: "The idea that my children or their friends could have symptoms overlooked to then suffer the consequences of late diagnosis, is a scary, yet preventable scenario."
Headsmart's campaign aims to raise awareness of the common signs and symptoms of brain tumour in children, and Lorna hopes that sharing her story will offer hope to other young people living with brain tumours.