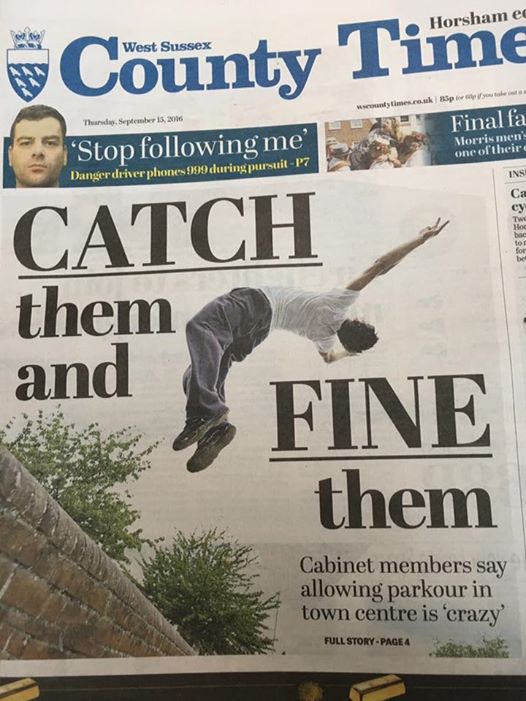 Traceurs V County Council
In September 2016 Parkour made headlines as Horsham County became the first council to ban the sport of Parkour from its town centre.
This was seen as unjust in the free running community as the sport is intrinsically linked with the urban landscape. It raised questions within the wider circle of society about whether the motion should be allowed to to be practiced outside or if they should be confined to indoor Parkour gyms.
Sophia Dyer speaks to Scott Jackson of Train Hard indoor Parkour gym, Greg Charman Community Safety manager at Horsham Council and Eugene Minogue of Parkour UK:
The relatively new sport began in the late 1980's (learn about the history here) and has taken the UK by storm ever since the release of Channel 4's Jump London.  The governing body of the sport, Parkour UK have since been in conversation with Horsham Council regarding this ban. Horsham have agreed to reword the ban, deliberations are still undergoing on whether or not it will be totally banned.
---
More from this project:
READ: Generation Traceuse (women who do Parkour)
WATCH: The Philosophy behind Parkour 
LEARN: A Brief history of Parkour
FOLLOW: Join the conversation on Facebook