Christchurch residents have expressed their concern for the councils new £120,000 promenade proposal.
The plans, submitted by Christchurch Borough council earlier this year, outline raising the middle section of Avon beach promenade to improve flood and coastal erosion risk.
The promenade will be raised by 900mm and will be widened by 1.5m,  including new surfacing, two seated areas and solar powered lighting. The schemes aim is to avoid large levels of flooding and destruction of beach huts and other amenities along the sea front.
Despite being approved by the council earlier this year, 17 letters of objections from residents were sent concerned about the impact it will have on the current surroundings. Some of these concerns were lopping of the trees directly behind the promenade, an increased risk of coastal slope rather than erosion, and the likelihood of anti social behaviour due to the lighting.
The council have taken these concerns into consideration and conclude in their proposal that if the project does not go ahead there will be continuous risk to the tarmac collapsing and debris and sand washing up on the promenade.
A local worker in Christchurch, Tom Robley, said: "In Christchurch we have really beautiful scenery and this brings a lot of people to the beach, so I can understand why residents wouldn't be happy about the surrounding wildlife being lopped and change.
"However I feel it is imperative to improve the flood defences along the promenade as it is an area surrounded by large volumes of water and prone to flooding, which is well known after the storm in 2014 that destroyed huts.
"A £120,000 investment will be able to prevent damage worth more than it's cost".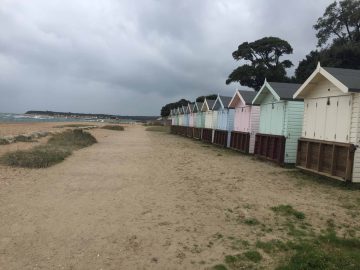 If the planning committee agrees the proposals then construction will commence in late October and could continue until December 2017.
It has been suggested in the plans that for the publics safety an alternative route around the promenade will be provided, and beach huts will be stored in the Far Eastern end of the beach. It has also been said not to have any effect on the businesses residing along the front.
Although councillors would not comment ahead of the meeting,  the council have reassured all measures will be taken to protect Avon's surroundings.
The proposals will be put before the planning committee on Thursday 12th October at 6pm. A live stream can be found on the Christchurch Borough council's youtube page.
Watch a short video below of the proposed site.