The FA Vase is vital for boosting team morale and offers the chance to earn some extra money for the club, says Christchurch manager Ollie Cherrett.
Christchurch play Westbury United tonight in the Second Round Qualifying of the competition, with the winners taking home £725 in prize money. However, Cherrett claims the impact a victory can have on his team is priceless. He said: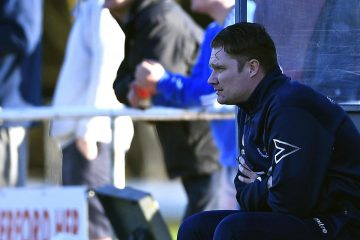 "The FA Vase is really important. It's a good competition. It's not only a break from the league campaign but it can build real confidence within the squad and create momentum going forward.
"Any FA competition that's got a final played at Wembley Stadium gives it a little bit of an extra edge."
On whether the potential prize fund plays on the minds of his players and staff, he added:
"The money is a massive help and of course it is important. It's not cheap to run a football club and any money that comes in can help fund everything we need to keep the club going. Having said that, it's just another game we want to win.
"The money doesn't help or support the wage budget because we're a non-paying club so from a player's point of view, as soon as they cross the line they want to win, no matter what competition they're playing in."
Tonight's game comes just eighteen days after Westbury had beaten Christchurch 5-2 in extra time and looked to be heading into the draw for the First Round. However, a replay was confirmed after Priory appealed to the FA and their opponents were found guilty of making a fourth substitution, breaching FA Vase rules.
Asked if the prize money on offer was the main reason the club decided to appeal, Cherrett said:
Christchurch's best achievement in the Vase came during the 2008-09 campaign when they reached the last 16, eventually losing 4-0 to Buckinghamshire-based side Chalfont St. Peter. On his team's targets in this season's competition, Cherrett added:
"Where we are and the level we play at we want to win as many games as we can. The draw is massively important and if we can get past Westbury we play a team in our league (US Portsmouth) which we'd like to think is winnable too.
"The ultimate goal is to test yourself against teams from higher levels, ready for hopefully promotion come the end of the season."