A woman from Poole has raised over £1,900 in six months by training for a half marathon. Emma Richman and her team from the 'Oakdale runners', will run for 13 miles along the east Dorset coast this Sunday to raise funds for Target Ovarian Cancer.
15,000 people are set to take part in the Bournemouth Marathon Festival this weekend to raise money for charities such as Macmillan Cancer, Cancer Research and Save The Children.
Annette Drummond, Sales and Marketing Director of the BMF said: "This is the 5th year of the Bournemouth Marathon Festival and it has raised over £2.5 million since it launched in 2013."
Mrs Richman is taking part in the Bournemouth Marathon Festival to raise awareness of ovarian cancer. "I've never run this far in my life and I've set myself a real challenge but I'm passionate about raising awareness of this silent cancer." said Mrs Richman. "The training has been hard, I've had injuries like shin splints, knee problems and I'm actually suffering with muscle problems in my right shoulder at the moment." she added.
Emma's mother, Linda Morson, lost her battle with ovarian cancer at the age of 64, just six weeks after being diagnosed with the illness in 2015. At the time she had all the symptoms of the disease but it wasn't immediately obvious to friends, family and even professionals that it was cancer.
Linda visited her GP several times and was initially treated for irritable bowel syndrome (IBS). By the time she was diagnosed with ovarian cancer, the tumour was 13cm long and the cancer had spread to her liver and bowel.
"My mum wasn't one for going to the doctors, she was part of a generation that just got on with it when you fell ill."
Symptoms of ovarian cancer:
 Persistent bloating
Loss of appetite and/or feeling full quickly
Pain and discomfort in the abdomen and/or pelvic region
More frequent and urgent urination
(Source: NHS Choices and Target Ovarian Cancer)
Misdiagnosis
Detecting the cancer during the early stages is vital for increasing the chance of fighting the disease. The survival rate for woman sufferers in the UK is amongst the lowest in Europe as women are often misdiagnosed or are not educated about the symptoms. There is currently no screening programme in place to help detect this cancer. "I strongly believe that the lack of awareness is why the survival rate is so low and this is why I'm so passionate about raising awareness and funds. My hope is that one day there may be a screening program like there is for cervical cancer or even a cure." said Emma.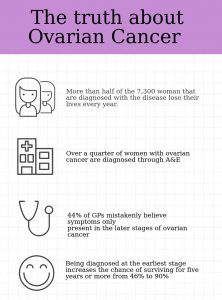 Take a look at at a clip from last year, as contestants run along the Dorset coastline in the 2016 half marathon.

(Credit: Paul Roberts)
Bournemouth Marathon Festival – The Aftermath…
After successfully completing the marathon in two and a half hours, Emma managed to raise a staggering £2,070 for Target Ovarian Cancer.
See more from The Bournemouth Marathon Festival below:
If you would like to make a donation to support Emma's journey, visit https://www.justgiving.com/fundraising/emma-richman3. All proceedings will be donated to Target Ovarian Cancer.
For more information about Ovarian Cancer visit https://targetovariancancer.org.uk and http://www.nhs.uk/conditions/Cancer-of-the-ovary/Pages/Introduction.aspx