Bournemouth airport is under new ownership after it's owners reached a multi-million-pound agreement to sell it to the Regional & City Airports group (RCA).
Manchester Airports Group (MAG) confirmed the deal on the 5th of December. The price is as yet undisclosed but presumed to be in excess of £240 million pounds.
The sale ends MAG's ownership of the airport, dating back to March 2001 when it acquired the airport form National Express.
Over the next decade, steady growth was enjoyed, peaking in 2007 when the airport served over a million passengers for the first time. In 2016, those numbers were around 700,000 passengers, making the airport the UK's 28th busiest.
A testing year.
However, the past year has been a testing time for the airport. In April, regional airline Flybe ceased operations permanently at the airport. Furthermore, it also lost a valuable royal mail contract for delivering cargo.
In light of these events, the airport wrote off assets amounting £8.4 million pounds.
Nevertheless, the airport remains a valuable asset for the local community. In the 2016, the airport contributed an estimated £24 million pounds to the local economy, as well as supplying over 900 jobs. It remains a regional hub for Ryanair, the busiest airline in Europe.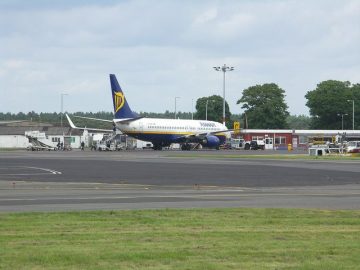 The RCA have stated that part of the motivation to purchase Bournemouth airport is to build an alternative group of airports in the south of England. It aims to offer passengers a viable alternative to the likes of Heathrow, Stansted and Gatwick.
For now though, it's business as normal at Bournemouth Airport.
More like this:
The history of aircraft production in Bournemouth
See all the aircraft developed at at Bournemouth Airport