Officers at Redhill Park Fire Station have erected an eye catching display as part of a scheme to stop local people from drink and drug driving.
The staged car accident features a Ford KA tipped over the fire station garden wall covered in police tape, with a large banner warning drivers 'DRINK, DRUGS, DRIVE, DON'T DO IT!'.
A similar display has been made at Southbourne Fire Station.
Station manager for Redhill Park and Southbourne fire stations, Julian Lockwood, said: "Over the festive season everyone everybody likes to have a good time.
"We just want to make everyone aware that if you are going to drink or take drugs, don't get behind the wheel of your car.
"The display has had quite a big impact, we've had quite a few drivers stopping and asking. It's a big visual impact, especially with the drug side of it we want to  open everyone's eyes to the dangers of drug driving as opposed to only drink driving."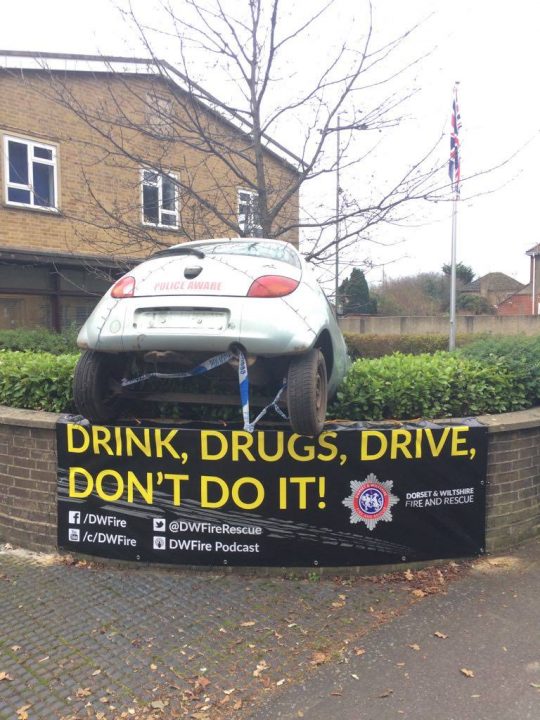 Julian explained that the local fire service was motivated to focus its campaign on drug driving after seeing Dorset drivers found to be on drugs on the ITV documentary, Gordon Ramsey on Cocaine.
"We've had some similar things done up in Wiltshire last Christmas about the drink driving side of it.
"About a month ago there was an ITV programme with about the dangers of drug driving in Boscombe and they actually picked up two drug drivers on the school run.
"I was watching the programme like anyone else on TV and it opened my eyes.
"We know there's issues with drugs around areas, as there is everywhere you go, but I think especially now in 2017, road traffic collisions are on the increase.
"Fire deaths are going down and road traffic accidents are going up and a lot of those are attributed towards either drink related or drug related collisions."
The Dorset Police service has also begun its drink and drug driving Christmas campaign, stopping over 100 cars in one night.
The month long scheme began on 1st December and will run in conjunction with the fire service.