Bournemouth Hospital Charity provides outstanding care and treatment for patients at the Royal Bournemouth Hospital.
The charity strives to give the added extras that the NHS cannot fund. This includes state-of-the-art equipment and specialist staff resources.
They also focus on making improvements to the hospital grounds, to make the hospital a more attractive area.
Due to public donations and endless fundraising events, such as this year's Reindeer Run in Boscombe, the charity is able to raise enough money to complete their life-changing projects.
Previously, funds have contributed to developing the Jigsaw Building and completing the Orchard Garden Project.
These two areas of the hospital were created to comfortably facilitate both patients and visitors.
The Jigsaw Building
The Jigsaw Building was opened on March 21 2016. The centre is dedicated to maintaining excellence in oncology, haematology, gynaecology, breast care and early pregnancy.
It provides state of the art facilities and reduces patient waiting times dramatically.
The facility was funded by the Jigsaw Appeal, an appeal which consequently set the building blocks for the emergence of the Bournemouth Hospital Charity.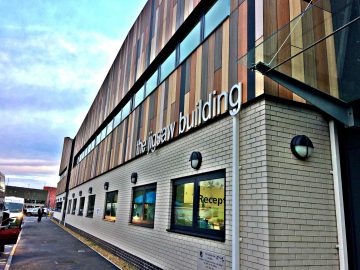 The Orchard Garden 
This area was completed in early 2017.
Following the success of The Jigsaw Building, the project transformed the unappealing courtyard between this and the pathology department.
The garden now provides three separate spaces for patients to enjoy during their time at the hospital: a spacious courtyard garden; a sensory garden walkway and a tranquil lakeside garden.
It is designed as a fully accessible space to ensure that all patients and visitors can benefit from the development.