The Dorset and Somerset Air Ambulance have exclusively revealed their plans to become the most successful air ambulance in the UK.
The DSAA charity was formed in March 2000 and since then, they have flown over 12,000 missions and saved thousands of lives.
The helicopter used costs in excess of £4,000 per day to run, however, with no direct government or national lottery funding, the charity rely on nothing but the generosity of the public for support.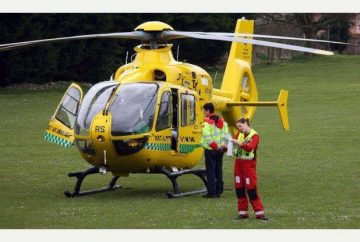 In order to achieve their two and a half million operating fee, a spokesperson for the charity stated that they "have to earn nearly £3,000 per mission, so that's our biggest challenge in its own right"
We want to provide the best critical care service possible"
It has already been announced that the DSAA have raised well beyond their yearly target of £2 million, with the help of the general public. Brigit Lilley, a patient that was saved by the DSAA said: "It's shocking that it's maintained entirely by charitable donations."
Over the past two years, the DSAA has seen a 60% increase in the number of patients they have treated. Brigit Lilley revealed that "they played such a major role in saving me and my heart from further damage."
In order to raise money for the charity, many events are held each year such as the Coast to Coast Cycle Challenge, which raised over £78,000 in 2016.  Among many other events, the charity also runs a weekly lottery which has, to date, over 50,000 members.
The public are able to donate on the Dorset and Somerset Air Ambulance official website.
More about the Dorset and Somerset Air Ambulance:
Exclusive interview with Martin Clunes, a patron of the Dorset and Somerset Air Ambulance.
The history of the Dorset and Somerset Air Ambulance.