Hate crimes in Bournemouth have decreased in 2017, according to a Dorset Police report.
Between January and October, 208 incidents have been reported to Dorset Police. Post-Brexit last year, they received 265 offences, showing a 21% drop in the number of hate crimes offences occurring this year.
Dorset Race Equality Council manager, Nathalie Sheering explains the situation in Bournemouth: "The most common is physical assault, against migrants and religious groups, which often comes with verbal abuse such as 'go back to your country'."
Despite statistics showing a fall in hate crimes in Bournemouth, the national figure suggests a 29% increase in hate crimes this year.
Mrs Sheerings states that there isn't "less hate crime in Bournemouth in comparison to the whole country."
"What is happening is more people are coming forward to report hate crimes. Agencies like us, and Dorset Police have become better at reporting hate crimes as opposed to the country becoming less safe."
In England and Wales, the police have recorded that racial and religious aggravated offences have spiked after the Manchester and Westminster terror attacks. Mrs Sheering says: "We've had the rise of ISIS and the terrorist incidents that have occurred this year, creating an atmosphere of fear and social unrest."
"Obviously, there are many other factors, but I'd say that, and Brexit are the main ones that have contributed to the national rise."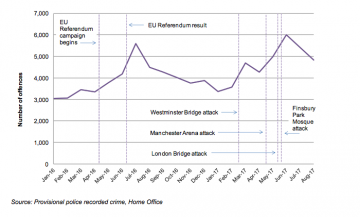 For anyone who has witnessed or experienced a hate crime, report it to Dorset Police on 999 for emergencies, 101 for non-emergency matters or the True Vision website, report-it.org.uk.