Although now gone, Bournemouth's aviation industry once played an important part for the rest of the country. In the years after World War Two, the airport was in a sense the flagship of the UK.
It existed as the sole Transatlantic airport until Heathrow opened in 1946. Pan American World Airways operated flights between Bournemouth and New York with DC-4 Prop aircraft. In the times before jet aircraft, the journey took 17 hours!
"The home of the 1-11″
Aircraft manufacture Vickers arrived at the airport (then called Hurn) in 1950. Several propeller aircraft were produced there, such as Varsities and later the Viscount. But the airport is perhaps best remembered as the home of the BAC 1-11, one of Britain's most successful post war aircraft.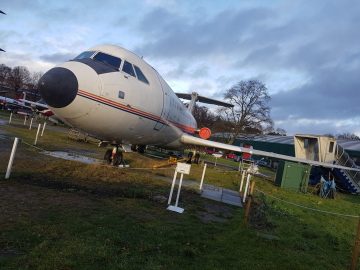 The overwhelming majority of the 244 1-11's produced were built in Hurn.
David Lines, an ex-apprentice at Weybridge (where the 1-11 was also manufactured), now Brooklands Museum, was forthcoming about the role Hurn played.
"Hurn was, more so than Weybridge and also Filton in Bristol, the home of the 1-11". "Most of the aircraft were made there, and then flown off to Wisley to start flight testing"
As well as the 1-11, several other aircraft components were manufactured at Hurn. Parts for Concorde, the Tornado fighter aircraft and several others were made on site during the 1960's. In total, Hurn produced a total of 647 aircraft during it's manufacturing years.
However, closure of the British Aerospace facility in 1984 effectively ended Bournemouth's role as a major player in the UK's aircraft industry. However, its legacy will last well into the future.
More like this:
Bournemouth Airport under new ownership
See all the aircraft developed at Bournemouth Airport