Bournemouth University Student Eleanor Collins has been inspired by BBC's Strictly Come Dancing to dance her way to the top at Ballroom and Latin competitions around the country.
She gained first place in 2016 and third this year in the UKA national competition for both ballroom and latin. In 2018 she hopes to reclaim her first place from 2016.
As well as training for up to eight hours a week, the 18-year-old has to travel home to Shepton Mallet every weekend to train and compete with her dance partner Alistair Dewfall.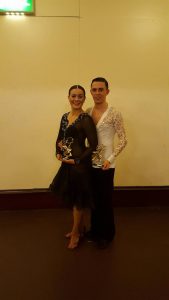 She doesn't mind travelling to and from Bournemouth every weekend because dance is a part of her social life however she says: "It would be nice to be able to train in Bournemouth a little more and not have to worry about a rushed weekend."
Eleanor studies Events Management and is part of the Bournemouth University Dance Society. She also takes part in contemporary, freestyle and musical theatre at various different dance schools alongside her Ballroom and Latin training at Allen School of Dance in Yeovil, Somerset.
Together with Strictly as her inspiration, her mother and grandmother have also inspired her to dance because of their "love of dancing from a young age."
She has taken part in ballet classes since the age of three, started Ballroom and Latin dancing at five and has been competing in this field since the age of eight.
Before stepping out to dance at the competitions Eleanor gets extremely nervous. "I actually get incredibly nervous before performing but I remind myself I've done it before."
Her coach is always there for support: "I normally have a chat with my coach, she always gives my positive reminders and makes me feel less nervous."
All you need to know about the final of Strictly Come Dancing
Erin Boag's thoughts on Strictly 2017