Women's Action Network Dorset went on a march through Dorchester to end violence against women and 'Reclaimed the Night'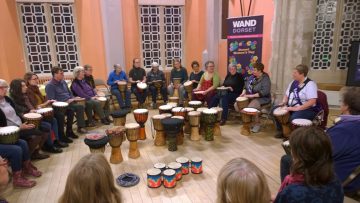 The "International End Violence Against Women Day" is held each year on November 25th . This year WAND–Women's Action Organisation Network, hosted their annual event- 'Reclaim the Night' at the Town Hall in Dorchester.
The event was attended by 38 people, the tickets for it were at the price of £3. The event included a drumming workshop, with Organic Rhythm, a buffet supper and a charity auction. The main event of the evening was a short march through the streets of Dorset, to 'Reclaim the Night'.
"The march through the streets is our way of raising vulnerability faced by any women through domestic violence and abuse, rape and honour-based violence", shared the spokesperson of the group in their press release.
"Reclaim the Night" raised £650, which will be split between the Dorset Women's Crisis and Information Centre and The Shores (the Dorset Sexual Assault Referral Centre). In addition to the money raised from charity, the group managed to secure 15 women pamper packs, which will be given to women currently living in refuge.
'Enough is enough'
"It's always a challenge to find the right words to talk about the Reclaim the Night in Dorchester. It is undoubtedly a very special night where united voices make a positive noise to say, 'Enough is enough'", says Tracey West, local author and Patron of Women's Action Organisation Dorset.
Read also:
An interview with Emma Scott, the treasurer of Women's Network Organization Dorset.
Domestic violence in England and Wales.