The Bournemouth GoodGym group is urging local people to help them reach elderly neighbours who might be suffering from loneliness.
The community of runners who combine regular exercise with helping the public target local charitable organisations but want to help more senior citizens.
"Unfortunately in Bournemouth we run off referrals for our coach visits when we run to help someone in their garden or change their lightbulbs and for our mission runs. We need more people to refer elderly friends, family members and neighbours so we can come and visit or help them," said Manuel Laurijssen, the Bournemouth GoodGym trainer.
The 39-year-old football coach, personal trainer and running coach contacts local charities and community projects every week to arrange times the group can go and help.
"This week we're off to Bournemouth Foodbank where we will help them sort through some of the donations they've received over Christmas, checking sell by dates, stacking shelves and packaging boxes."

GoodGym runners are encouraged to keep fit in three ways
Coach runs – running to help older people with one off tasks like gardening or moving furniture.
Mission runs – running to regularly visit isolated older people, and arranging group runs to help community projects.
Group runs – running in a group to help community projects and running back, all in 90mins.
When did the Bournemouth GoodGym group start?
The Bournemouth running group was started in August 2016, has just under 60 active members and has performed 663 good deeds to date.
Manuel joined the team when he moved to the area after hearing about the groups based in London.
"There was 18 of us that day and we went to the Samaritans and helped at their shelter there and that's when I got my first taste for it and realised how cool it was."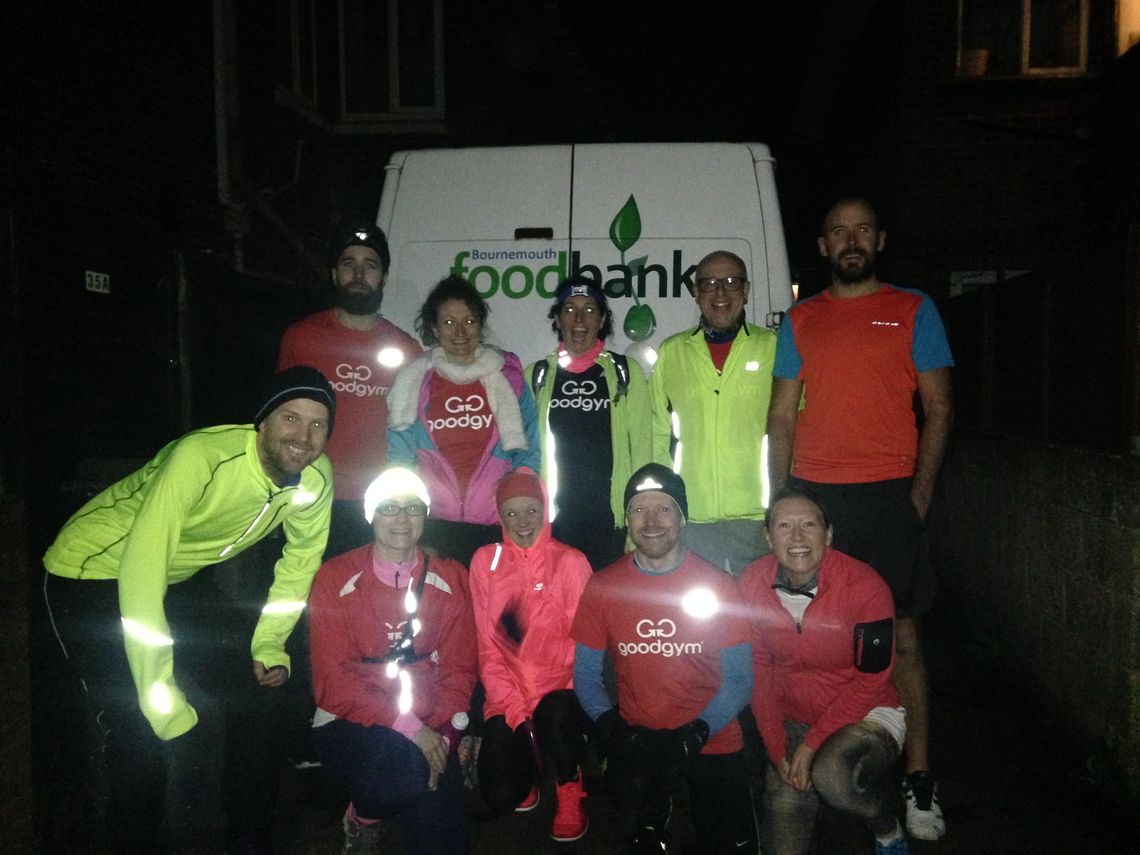 Manuel is also encouraging new runners to join and help them work towards the national GoodGym January Challenge 2018.
According to a YouGov poll, one of the most common new years resolutions for 2018 is to get more exercise and save more money, a popular goal which GoodGym wanted to act on.
The January Challenge 2018 goal is to reach 5000 good deeds and for members to collectively run 50,000km by the end of the month.
Manuel is confident that Bournemouth will beat their team goal as part of the challenge.
"The target we had was 500km and 33 good deeds for the month. We're close to 300km so far and up to 23 good deeds already so I think we're well on our way to beating it.
"Just beating it isn't going to be enough, I'm going to try and push even higher."

Alex Kenmure is Head of Business Development for GoodGym and leads on getting new gym areas set up.
"This time of year we've got group runs helping food banks, homeless shelters, painting community centres, they make a difference in just half an hours worth of work and there's usually a physical element."
The organisation encourage members to pay donations but joining a group requires no membership fee.
Alex insists there are many other benefits to joining GoodGym as well as saving money.
"We have some people who visit isolated older people on a regular basis as a part of their weekly run. They stop for a chat and have a cup of tea, it's all about bridging that loneliness and isolation gap."
He highlighted that GoodGym can't really be compared to using a normal gym but it does encourage people to get fit in a different way.
"Sometimes 'self improvement' isn't actually the best motivation, the idea that you can be using your exercise to help others is quite a unique angle."
To join the Bournemouth GoodGym group and help them work towards the National challenge goal, sign up on their website.