Bournemouth seems to be bucking the trend as people attending live music in the area is declining despite the fact that latest national figures  revealed a 12% rise in audiences at live events in the UK.
Bournemouth-based event manager and DJ, Tor Byrnes, told Buzz that she's seen a huge drop in the number of people coming to watch live music in Bournemouth.
Tor is a huge advocate for live music in the area and manages events at 'Sixty Million Postcards' and for 'We Broke Free', and attributes the decline to the closure of music bars and clubs in Bournemouth.
"Not all people who say that they go to live music and things like that, I don't actually see coming to my shows. So if people aren't going to the shows, it leads to venues closing down and then no shows.
"The shows themselves are hard to maintain – to put on a show, it's really costly so promoters doing them, it's their own money they're gambling with so if people don't come out you just can't pay everybody."
Several music venues have closed in Bournemouth in the past year, including popular student bar 'The Winchester' which closed last year, and also the music club 'Mr Kyps' which is set to close in the summer of 2018.
But why is Bournemouth not following the national trend increase? Tor said: "Bournemouth has a huge club culture and house music is really big. The night clubs are actually doing really well at the minute but live music is really struggling."
The DJ is currently on a UK tour at the moment with her music and events label 'We Broke Free' in a push to promote local music coming from the area. Tor said: "I'm taking bands from Bournemouth with me because I believe in them and I want them to play in different venues across the country.
"These bands are probably starting out and they need that support from a live audience. You have to support them for bands to get bigger and the only way to do this is by actually coming along to see them play live."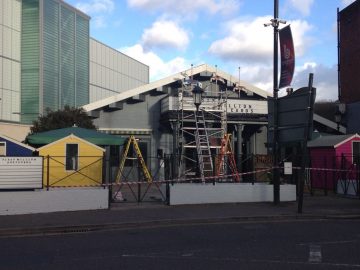 Tor is set to return from her tour in time for the re-opening of local bar, Sixty Million Postcards on 8
th
February, which hosts weekly (usually free) live shows. Tor wants to encourage people to come along, "People literally have nothing to lose.
"I think sometimes people get put off when the show is free because they think the music is going to be rubbish but we've had some of the biggest name bands on like Blossoms and bands like that."
Please take the time to fill out our exclusive survey about your experience of live music in Bournemouth:
You can find out more about the opening of Sixty Million Postcards here or you can get the latest updates of We Broke Free on Facebook.