Bournemouth striker and current Yeovil Town loanee Sam Surridge is looking forward to the biggest match of his career when Manchester United visit Huish Park in the FA Cup fourth round next Friday night.
The 19-year-old forward, who joined the Glovers on loan from Bournemouth last summer, has scored seven times for the League Two side so far this season. Although excited about facing a United team likely to include imminent signing Alexis Sanchez, Surridge insists his nerves are yet to get the better of him. He exclusively told BUzz Sport:
It's the biggest match of my career so far there's no doubt about that.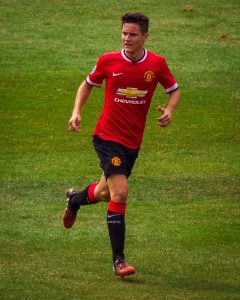 "I'm looking forward to it. It's mad when you think about it but at the moment I'm not really nervous. It is a bit surreal but I think as soon as I start playing I'm going to be fine and I'll just get on with it."
It is the second time in four years that Yeovil have been drawn at home to face Manchester United in the FA Cup. In 2015 then manager Louis van Gaal brought his players to Huish Park and walked away 2-0 winners thanks to goals from Ander Herrera and Angel Di Maria.
United have won the competition 12 times and although they are overwhelming favourites for the game next Friday, Surridge insists anything can happen.
Obviously we're not expected to win but you can never rule anything out.
"We've just got to perform as well as we can and then after that you never know. Football's one of those sports where anything is possible."
Life at Yeovil
Surridge is not the first Bournemouth youngster to move to Huish Park on a temporary basis. Matt Butcher and Ben Whitfield spent the whole of last season on loan from the Cherries and former midfielder Harry Cornick was also loaned out to the Somerset club during the 2015-16 campaign.
Eddie Howe had the option to recall Surridge this month, but is happy for the frontman to continue at the Glovers for the foreseeable future.
Surridge said: "The loan's been really good. At the beginning I didn't start the first few games but after that I cemented my place in the team and since then I've started really enjoying myself.
"I've got until the end of the season here now just to keep working with them and I'll just see how I get on."
Poole Town learning curve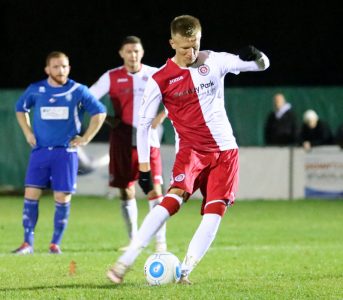 The Bournemouth youngster has taken the step up to the Football League in his stride after representing Poole Town in the National League South during the first half of last season.
The frontman scored eight goals in 16 appearances during his spell with the Dolphins, and believes that has helped him adapt to life in League Two.
"Being on loan at Poole last season helped massively because it's men's football and it got me used to that environment," he said.
It's obviously a lot harder and more physical than youth football so I think last season definitely prepared me well before going out on loan to Yeovil."
Last 12 months
Raised in Wimborne Minster, Dorset, Surridge joined the Bournemouth academy at the age of 14 from local club Bournemouth Sports. From playing against Shaftesbury in the Dorset Senior Cup to potentially facing Manchester United in the world's most famous domestic cup competition, the last year alone has seen his career change dramatically.
When asked to reflect on the last 12 months, he said:  "It's mad. The Shaftesbury game was during the first half of last season and then after that I went back to Bournemouth and was around a lot of the first team players there.
I was training with them every day and then I travelled with them to games – that helped me a lot because obviously you're just around better players every day so it improves your game.
"It is weird thinking about the journey you're going on. But you look at other strikers, you look at other players, they've gone through non-league and are now in the Premier League and are doing well so I just want to keep improving every year."
The future at Bournemouth
Having recently signed a new contract at Bournemouth, the 19-year-old striker says the feedback from his parent club has been positive so far. He maintains his dream is to eventually play regularly for the Cherries, but knows how much work is still required to make that happen.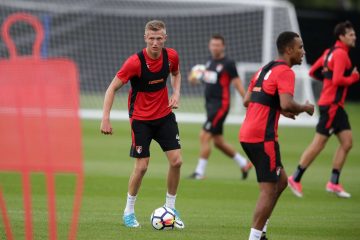 "I signed my new contract a few days ago and I spoke to them (Bournemouth) about how I'm getting on," he said.
"They told me I'm doing well and that I've just got to keep going, pick up as much experience as possible and come back the best player I can at the end of the year. The United game obviously allows me to see the level I'm at, so I'm really looking forward to testing myself against the very best.
"I've just got to make sure that I continue to work hard, do well here at Yeovil and hopefully improve my game.
The dream is to play for Bournemouth in the Premier League. That's what I've always wanted to do so hopefully I'll be able to make that happen one day."
*The FA Cup fourth round tie between Yeovil Town and Manchester United is live on BBC One on Friday 26th January 2018. Coverage starts at 7.30pm. The match kicks off at 7.55pm.
---
A look ahead to this weekend's matches and a round-up of other sports news: