In Dorset, one in four children are classed as overweight, according to Dorset County Council.
A report released this week warns that children are more likely to have an earlier death because of their eating habits.
The Royal College of Obstetricians and Child health says that four out of five children are obese.
They are calling to stop advertising of unhealthy food and to prevent local stores and fast food outlets opening near schools.
It is understood that 9.6% of reception pupils are obese, increasing to 15.2% when they reach year six, a 5.6% difference.
Pip Brayshaw, a children's nutritionist based in Dorset, said that individuals and the society are to blame for child obesity.
It's really sad that we've got to this state. If we don't make changes it's likely to bankrupt the whole health system."
Buzz News asked Ms Brayshaw, who completed an MSc in Nutritional Therapy earlier year, about what the government should be doing to prevent obesity and spoke about the sugar tax.
You can listen here:
A sugar tax was implemented in March 2016 which will be put into force later this year after George Osborne, former Chancellor of the Exchequer, called for more to be done to prevent obesity in all ages.
The tax will mean that all fizzy drinks over five grams per 100ml, such as Redbull and Coke, will be more expensive to buy.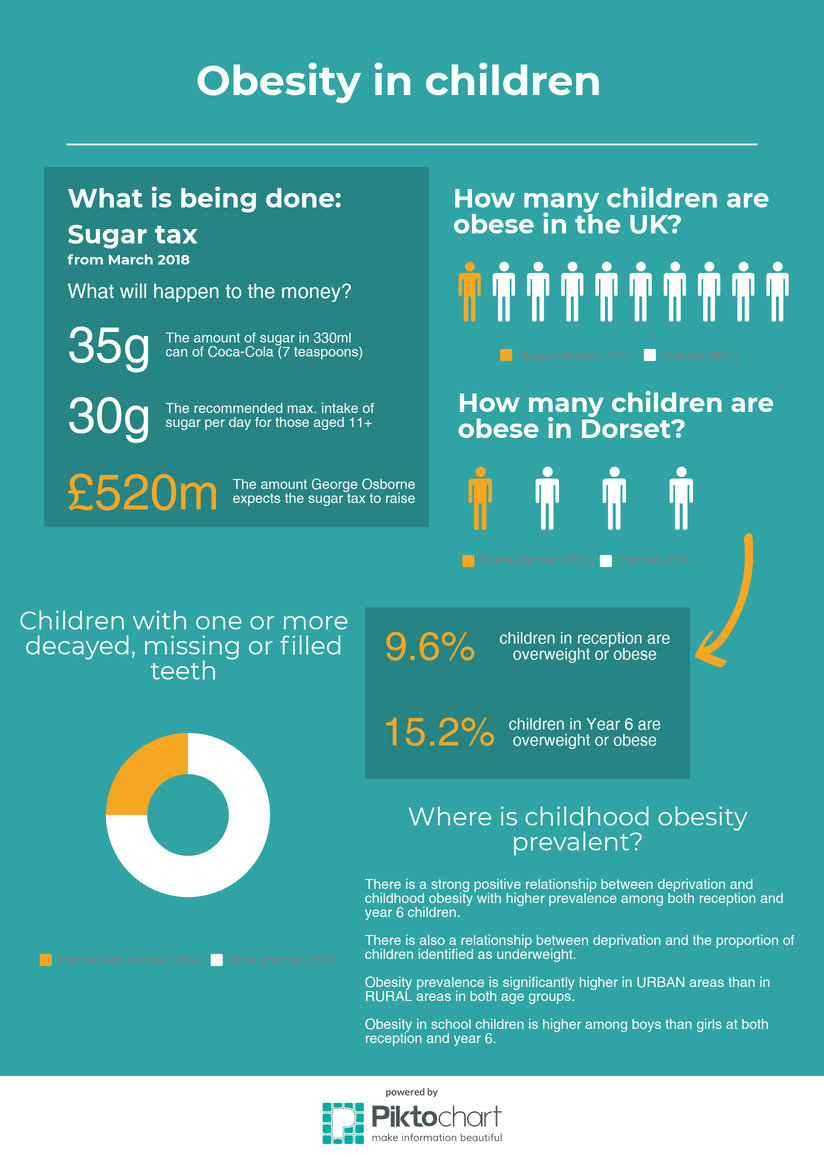 Sarah Todd, Clinical Lead Dietician at St. Mary's Hospital on the Isle of Wight, stated sugar should not be the enemy.
Leave sugar alone. Sugar is not the Devil!"
Buzz News further spoke with Sarah on the issue of child obesity and how the government should tackle the issue.
A report from Dorset County Council concluded that one in four children have missing, decayed or filled teeth. According to Diabetes.co.uk, the tax will make around 250 million a year, which will be put towards funding in schools.
With the increase of obesity in children, Caroline Cerny, from the Obesity Health Alliance, says the government is to blame due to the amount of food advertising.
Research shows that junk food adverts influences their food choices. We must take strong action today, starting with a 9pm watershed on junk food adverts on TV."
It has been strongly suggested more needs to be implemented in tackling the issue of obesity, so children can have the chance of having the best quality of life possible.