The world of online dating has become a very open and vast space. With dating websites flourishing, and more relationships blossoming through screens, it's no wonder that people are flocking to find their true love online. But is it really safe?
Officer Tony Murray of Durham Police specialises in fraud and cybercrime prevention and protection, as well as the national coordinators office of the City of London police for fraud investigation. He gave some words of wisdom on how to date online safely.
What not to do online
Staying safe online seems like an obvious thing to do. But the information we share on a daily basis could potentially be putting us at risk, and potentially victim to fraud and cybercrime.
Officer Tony Murray, Fraud and Cybercrime prevention officer for Durham Police and seconded to City of London, wants to talk more about the dangers of over sharing online and how to keep yourself safe. "People need to be more aware of what they are sharing online. Even a photograph they send can be captured and shared, and used by someone else to create another fake profile" he told me. "Once things are shared, there's no way to control where it goes".
The kind of website you use to date online can make a huge difference to how safe you are. Tony explained why it's important.
"When it comes to dating websites, the free ones don't offer any type of barrier to stop fraudsters getting in and making fake profiles. Their information isn't processed or reviewed in order to join. Whereas sites you pay for, because you have to give personal information, allow for people to be processed through operating systems that fish out potential scammers or red flags".
Sharing any information online should be done with caution, but even more so on dating websites. "Revealing too much personal information online such as your date of birth, full name and address. They are all things that give away your identity" Tony said. "Scammers can take this, and scam you by pretending to be you, or use it against you and scam you directly".
How many people in the UK use online dating?
An independent report conducted by online dating website eharmony.com stated that by 2040, 70% of romantic relationships will attribute their coming together to meeting online via dating sites or social media. Already today, 1 in 5 relationships start online.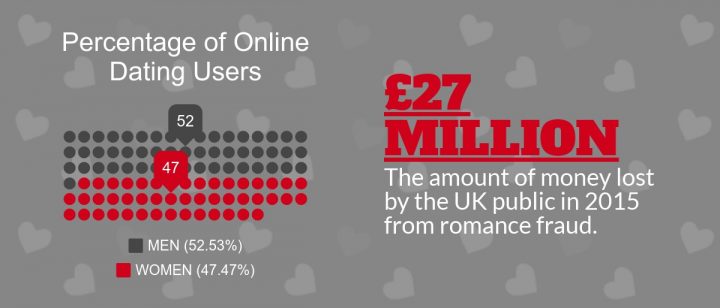 How to spot a scammer
The first port of call whenever you start talking to someone online is to do your research. Google their name, reverse image search their photos and try to find any additional evidence that this person is real. If you find their information associated with other accounts, or the same pictures being used with a different name, block and report them. If someone asks you for money, or very personal information such as your address or bank details, report them immediately.
Some signs that the person you're talking to is a scammer include:
They want to communicate off of the dating website very quickly e.g. via text or instant messaging
They ask a lot of questions about you but don't tell them much about themselves
Their pictures are a little too perfect, like a catalogue model, or an actor
They avoid answering basic questions like what they do for work, where they live etc.
How many people get scammed annually in the UK?
Romance fraud is a serious crime, but a lot of the time goes unreported due to the stigma and embarrassment associated with it. Victims feel they are unable to report their case because many see them as having brought it on themselves. According to Action Fraud U.K, almost 64% of all romance scams in 2016 originated on dating sites. Only 2% of reported dating frauds originated via contact made on dating apps. Online dating fraud in the UK cost victims a heart-breaking £27 million last year, according to the latest stats from the City of London Police's National Fraud Intelligence Bureau (NFIB) and Get Safe Online.
How to report it
If you think you're being scammed, or the person you are talking to isn't who they claim to be, the first thing to do is block and report them on the site you met them on. If you feel you're at risk of being a victim of fraud, report the incident to the police and refrain from sharing any other personal information. Officer Murray advises people to not let their embarrassment stop them from reporting an incident. "One thing I would encourage people to do is talk about fraud in the real world with people" he said.
"If you're a victim, there's no shame or embarrassment, and letting other people hear your story could make them realise they too have been a victim. Discussing it removes the stigma surrounding it."
Now nationally recognised, Tony's 'Tell2 save many' campaign is leading the way in reducing the stigma surrounding fraud as well as spreading awareness of online fraud and romance scams. "The campaign has a simple notion of telling two people in the real world or your daily life about your experience or if you think you may be being scammed. A chain of 26 people who have told 2 has the potential to reach 67 million people, so by telling 2 we can protect many".
How to seek help
Being a victim of romance fraud can be a very turbulent experience. Many victims gain anxiety and trust issues after being scammed, leaving them vulnerable and afraid. Organisations such as Action Fraud, Victim Support and Scam Survivors offer advice and support for victims. Those who have been scammed can officially report their incident to Action Fraud UK through their online reporting system here.
As well as telling the authorities, it's important to tell your close friends and families. Their support and help will make dealing with everything much easier, and help you feel less alone in it all.
To see more from this project follow these links:
To see how the project progressed behind the scenes, check these out: