After a recent death of a rough sleeper in Bournemouth, many other homeless locals in the town have called for more "action" from the council to prevent tragedies like the passing of Kevin happening again. Buzz News today went to Bournemouth's town centre to speak to rough sleepers about the death of Kevin and the apparent treatment he received the night he passed away. One man, who asked to remain anonymous, expressed his feelings for Bournemouth Council, "It's disgusting the way we're treated by this town, how can somebody take somebody's belongings away from them in freezing cold temperatures? It's disgusting. They don't want us here and they'll do whatever it takes to get rid of us."
Although these accusations of Bournemouth Council removing Kevin's sleeping bag are not proven, many rough sleepers believe it is true. Bournemouth Councillor, Nigel Hedges, spoke to Buzz News today to clear up any rumours of the mistreatment rough sleepers are receiving from the council:
Bournemouth is a town heavily populated with rough sleepers in recent times. The seaside town has seen an increase of 292% of homeless locals since 2010 – where the national average is 102% – a shocking statistic.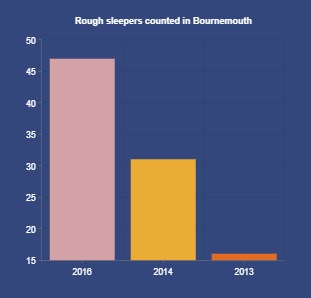 This graph is the latest homeless research recorded by the annual rough sleeper count figures in Bournemouth. In 2016, an overnight count by councillor Lawton identified 47 individuals bedding down in the streets compared to just 13, three years prior.
Councillor Hedges told Buzz News that the council realise the increase in numbers of rough sleepers as each year passes and that they are doing everything they can to help them:
Hedges went on to say that he feels the opinion amongst Bournemouth's rough sleepers of the council is unwarranted, stating that the council continue to fund a huge amount towards getting them all official accommodation: