Dorset Charity, My Time, is working to bring young carers out of social isolation through providing them with outdoor breaks.
Joanne Barker is the Community Partnership Director at My Time. As part of Young Carers Awareness Day 2018, she spoke about how social isolation is one of the main problems that young carers in Dorset face, especially in parts of the county that are not very well connected:
"It's been especially difficult with some of the groups in rural, hard to reach places…and that's actually what we address is working together with these groups, bringing them out of social isolation into a place where they can be with likeminded people."
My Time organise and run breaks for young carers, that are bespoke and fully funded, to offer them some time away from responsibilities as carers. These include residential breaks and play days where the young people can take part in outdoor activities and learn key skills.
They help carers as young as the age of 5 and all the way up to 24 years.
Joanne explains how it can be difficult for the young carers to access this service because of social isolation:
"It's very important that we're able to tell these individuals that there's so much help and support out there.
"And they don't really know because they're sort of hidden, and there's a social stigma behind some of the situations they're in."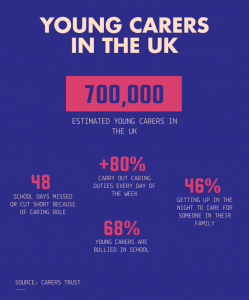 Joanne joined the charity in 2015 during which time they have managed to offer 160 young carers a break.
She tells the story of one young carer who came away from a residential break feeling like she now had "less weight on (her) shoulders".
"She felt she had to be an adult when she was just a child," Joanne recounts.
She hopes the charity will be able to expand even more this year to be able to offer their breaks to even more young carers in Dorset. They would also like to collaborate with other charity partners and projects.
"We hope in the future, especially this year, that we secure funding for the project and that we are able to stretch our target to around 140/150 young carers getting a break."
If you would like to find out more about the work My Time do you can visit their Facebook or Twitter page.