The Community Development Worker in charge of tackling loneliness across Dorset has said that she hopes the new appointment of a minister for loneliness in central government will 'raise the profile of loneliness' across all age ranges.
Downing Street announced that Tracey Crouch is to take up the position of minister for loneliness, which affects around nine million people in the UK. This is the first time a position has been created in central government to tackle the problem.
Lynn Kenchington, who looks at loneliness and isolation across the whole of Dorset County Council, hopes the creation of the role will help people to realise that it is not just a problem that affects the elderly:
"It's not just something for older people but anybody can feel the effects of loneliness and isolation. It will help communities to support each other as it's discussed more openly and actually it becomes less stigmatised.
"And so people will feel more comfortable in saying 'yes I feel lonely too' or they share their experiences of feeling lonely, which then destigmatises it."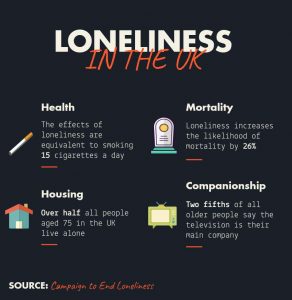 The Commission on Loneliness, first set up by the late MP Jo Cox, found that loneliness can have a huge impact on mental well-being and that the constant feeling of loneliness is equivalent to smoking 15 cigarettes a day.
This is something Lynn has noticed through her work around loneliness.
"It has big implications on individual's mental health," she says. "You lose your resilience to deal with everyday life if you're on your own and you don't have that company."
There are a number of services currently set up in Dorset to help people across all age ranges that are experiencing loneliness. These include weekly lunch clubs, coffee mornings, exercises classes and bowling clubs.
The Council's 'Good Neighbour' scheme also allows volunteers to help those experiencing loneliness by helping them with everyday tasks.
"It could just be changing a lightbulb, it could be helping somebody to change the sheets on their bed," Lynn says. "It's something very small and insignificant to most people but actually makes a massive impact on somebody's quality of life."
If you're living Dorset and would like to find out more about the services on offer to help with loneliness you can visit the Dorset For You website.
Tweet us @buzz_bmth your opinions on the new appointment of a minister for loneliness.