To mark Chinese New Year Bournemouth Coastal BID have teamed up with local businesses to get people involved in their latest family-friendly app to unlock characters and special prizes.
By Gabriella Cassandro and Drew Wyllie
Chinese New Year is an opportunity to celebrate a new start with millions of people around the world. This year it falls on 16 February 2018 celebrating the Year of the Dog. It indicates the start of the lunar year, with families gathering to exchange gifts and set off firecrackers to mark the occasion. Chinese New Year takes place on a different date every year, because it is based on the lunar calendar. However, it always falls between the end of January and mid-February. Each year represents a different symbol from the Chinese 12 year animal zodiac, with this year being matched to the 11th sign. Last year it was the year of the Rooster.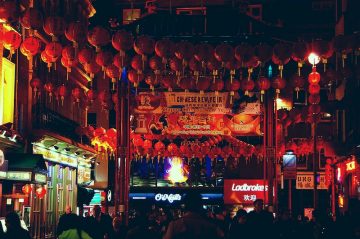 From mid January to 11 February the free 'Go Bournemouth Coast' augmented reality app will bring a virtual hunt to find 'Lucky the Dog'. Whilst on 'walkies' around Bournemouth – you will have to keep a eye out for one of the many characters that can be unlocked through the app. Simply visit participating retailers to grab and scan the 'GO codes' which are scattered around Bournemouth coastal areas. Once scanned you will receive your first encounter with one of the many characters.
#ChineseNewYear is nearly here! To celebrate the #YearoftheDog, our Go Bournemouth Coast app is bringing a virtual 'Lucky the Dog' to local businesses. Get your customers to download the app and take their snaps using #GoBoCoast to enter the prize draw. https://t.co/JzhRam4K9d pic.twitter.com/alBpfgF0dO

— Coastal BID (@CoastalBID) January 23, 2018
Retailers include Aruba bar, Harry Ramsdens and Little Pickle Deli. For a full list of participators click here, the paw indicates which businesses are dog-friendly.
The Coastal BID was created for the local people as well as visitors. Its objectives are to increase visitors off-season, encourage the public to explore more of the coastal strip, bring more traffic to local coastal businesses, improve everyone's experiences and to encourage repeat visits. Nikki Parker, Operations Executive at Bournemouth Coastal BID spoke to BUzz about how the app operates.
The app launched back in November and Nikki told us that it has had a great reception from local businesses and the public. The augmented reality game will continue up to Easter and change according to season and holidays. This app allows Bournemouth BID to also aid local companies and teach them what digital can do for their business.
Nikki also added: "Celebrating the arrival of Chinese New Year and the Year of the Dog, we are pleased to provide a fun activity for locals and visitors to the area. Bournemouth has a wonderful collection of dog-friendly businesses and the new campaign will highlight and raise awareness for this excellent offering.''
So snap your new pal and share the photo or video of you encounter on Twitter or Facebook using the hashtag #GoboCoast to be entered into the special prize draw. Prizes include a family pass to Rock Reef and the Oceanarium, a range of hampers and a £30 Koh Thai Boscombe voucher.
The app is available to download on IOS and Android.