Bournemouth Borough Council strongly advise one solution for avoiding fake begging in the town centre.
Councillor David Smith, for Bournemouth Central, said: "My strong advice is not to give money to any beggars whether real or not!"
People are being asked for money by 'professional beggars' who are not really homeless, according to the Dorset Police and Crime Commissioner Martyn Underhill.
But what impact is this having on the rough sleepers within Bournemouth community?
Matthew has been homeless for over a year in Bournemouth after struggling to get permanent accommodation.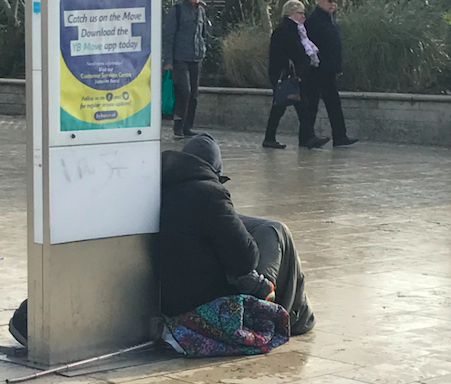 He spends his time sat in Bournemouth town centre and relies on generous donations to get him through the day.
Matthew said: "I've been here, there and everywhere."
He like many other homeless people in the town meets professional beggars on a daily basis, he emphasises the fact that they are around when people are out and about on the weekend.
"There's a few homeless but a lot of them aren't, they're around on the weekend when everyone is out [getting drunk]."
Matthew also said: "It does affect the amount of money I get because people don't believe I'm homeless."
Government statistics show that over 4,134 people slept rough every night across England in 2016.
Homeless applications to Bournemouth Borough Council have also increased from 195 in 2012/13 to 522 in 2015/16.
With homelessness on the rise and rough sleepers dependant on begging money, how can we tell the difference between the real and the fake beggars?
We asked the people of Bournemouth for they're opinions:
Senior management for YMCA homeless charity, said: "Giving money or items to someone is a personal choice but YMCA Bournemouth continues to be focused upon our belief that local homelessness requires a longer-term, individually based support solution.
 "Our area of expertise is in helping individuals to positively move on to independent living: providing them with supported professional housing and the various tools they need to move forward with their lives."