The annual New Media Writing Prize returned to Bournemouth University last night for the eighth consecutive year.
The awards night, aiming to look for 'good story telling pieces of work using multimedia with audience interactivity', showcased work from global students and journalists.
Providing an insight to the 'innovative, interactive and immersive' strap line taken on by the awards, Adrian Smith, inventor of the video game Tomb Raider, was the guest speaker for the evening.
Adrian Smith originally ran a small British game design studio, Core Design, with his brother Jeremy before inventing Tomb Raider in 1996.
Producing six video games in the Lara Croft series and winning international awards, Adrian spoke of how the industry has changed since he began:
"We started when men were men and sheep were very worried.
"You had new players coming in, you had new hardware, games were going mass market" he added.
Adrian explained the challenges of the heavy competition in interactive media to the aspiring journalists and students who attended.
"Back then, the ratio of games was 26 to 1, people bought 26 games a year. Now, the ratio is 4 or 5 to one."
Before the awards were distributed, Adrian finished his speech by converting his own interactive success into advice for the audience.
"You can't be formulaic and you must know your market. It's all about bringing out a product that is made for the right time."
One of the commendations was the Unicorn Student prize, one that saw Canadian student Natasha Nunn claim the prize for the best interactive narrative.
Coming in at second was Paranormal Interactivity, a piece by Bournemouth University students.
The piece previously came second in the 'Website of the Year' category at the BJTC awards in November.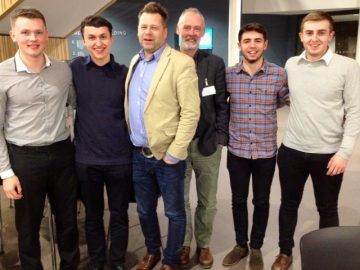 Mark Briggs, part of the paranormal production team said: "It was amazing to be nominated for the Unicorn Student Prize and have our work showcased amongst industry professionals."
He continued: "The likes of Adrian Smith have always been an inspiration to me. I played Tomb Raider as a youngster and to hear his thought process behind the game was fascinating."
For more information on last night's New Media Writing Prize, you can follow them on Twitter here: @NMWPrize.