" I take one day at a time, you can't dwell on the past but then you also can't worry about the future," says Tracey Shorthouse, who was diagnosed with Young Onset Dementia, when she was in her forties.
It is estimated that there are currently forty-two thousand people living with Young Onset Dementia in the UK. Dementia is considered young onset when it affects people between the ages of 30 to 65.
Tracey was forty-three and working as a nurse for Kent Community Health and enjoying life when she started developing symptoms. "At the start I was trying to write down patient's date of births and I couldn't actually remember how to write the numbers."
For Tracey it was hard to get diagnosed, for two years she was in and out of doctor's surgeries and hospitals being told that she was probably just stressed or depressed and wasting their time.
"I was relieved when I got diagnosed, but I was gutted as well because nobody wants to be told that they have a terminal illness at such a young age."
"People believe dementia is only for older people," says Doctor Janet Carter, a consultant for Old Age Psychiatry at NHS England. "The most important thing is to help clinicians identify the illness because it tends to fly under the radar and in a lot of cases diagnosis are missed or people are wrongly diagnosed."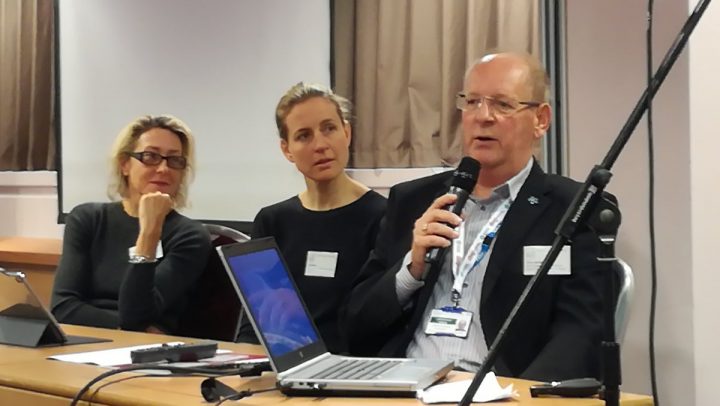 In 2015 after years of trying, Tracey was finally diagnosed with Alzheimer's Disease and a rare form of dementia called Posterior Cortial Atrophy, which is where the visual cortex at the back of the brain changes what the eyes see. Due to this, Tracey was unable to work and soon after she voluntarily gave up driving. "Posterior Cortical Atrophy changes the perception, it hides things so I cannot see what is right in front of me. "It can change the colour of things, one time I went through a red light because my brain told me it was green, it was really scary."
When it comes to talking about her day to day life, Tracey makes it clear that she has no routine; "I don't really have any set days with what I do, I just think what do I fancy doing today, what does my brain feel like doing."
Alongside this, she is currently attending a writing course, "It's good because it encourages me to use my brain and get ideas and write stories." One of the things that dementia affects is coordination. In the past Tracey enjoyed cooking and embroidery however she can no longer do it for long periods.
Family Time
Tracey is single, never been married and lives on her own. She says that her family forget about her dementia."When I struggle to remember something my sister will say, why can't you remember. She doesn't mean it in a horrible way."
Alongside family, Tracey had a lot of friends before she was diagnosed. "I lost a lot of friends, a lot of them couldn't believe that someone so young could have dementia and they thought I was lying."
Other people can develop dementia for different reasons. Becky Fawcett had been living with a vascular disorder called Klippel Trenaunay Weber Syndrome all her life, which can put you at a high risk of blood clots. After not being given the right treatment, she developed deep vein thrombosis, which then split and a clot went to her brain and she had a stroke. After the stroke, some damage to the brain was noticed and she was diagnosed with Vascular Dementia. "I felt pretty wretched, I felt angry with the NHS for not understanding my condition. I felt like they had caused it."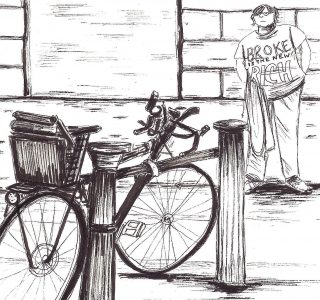 Now, five years on Becky has finally come to terms with her condition and understands that life will never be the same. "Life changed completely, our family home has no children in it, I cannot work and I had to abandon my masters. I was determined not to rot so I took up poetry."
"It is vital to be positive, it is difficult. I try to walk the dogs and get out and see nature."
Looking forward and the future is something which neither Tracey or Becky have really thought about. "I don't worry about the future and that's what I tell people because who knows."
Becky always thought she had her life planned out, "I haven't achieved what I wanted, in a way I'm glad it happened because I have been given me the opportunity to follow a different path." Her honesty is quite shocking from someone who is only forty-two. "I don't have any hopes for the future, I don't think about it very much, it's all too depressing."
Finding Support
For the past year Tracey has been attending Sunshiners a dementia friendly group in Kent, who travel around giving talks to people recently diagnosed with dementia. "I absolutely love doing the talks, it's my favourite thing in the world because it's just like teaching."
"I like my own company but you have to be sensible and push yourself,"
Despite all of this, she is a firm believer that the best possible remedy is to carry on life as normal as you can, "When I give talks to people who have been recently diagnosed, I tell them that they must not give up. I hear the doom and gloom of what they think their dementia is."
Working alongside the Alzheimer's Society on the Angela Project, Doctor Carter hopes the research survey will improve diagnosis and post-diagnostic support. Doctor Carter hopes that her work will increase awareness. "I want the best practice guidelines about how to make an accurate diagnosis."
As the number of people affected rises. It is important to remember that this is a disease that can strike anyone at any given time.
---
Find out more from Living with Young Onset Dementia
Video – The role of music therapy for people living with Young Onset Dementia
Audio – How to cope with a parent having Young Onset Dementia when your only a teenager?
Add Ons – All extra content as part of the project
---
To read the full article, check it out here