A local arts campaign is encouraging adults and children to become more involved with art.
Campaigner Amanda Edwards, from Bournemouth, who runs Pier Beyond, is encouraging people to #FollowYourArts on social media.
Miss Edwards aim of the campaign, which is running for five weeks, is to get more people to discover the many events and venues Bournemouth has to offer as well as improve peoples mentality.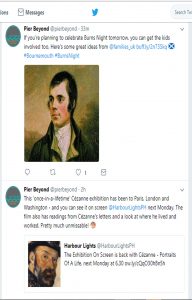 This could be going to the theatre, a museum, listening to music, or dancing. Amanda stressed: "I've always been passionate about the arts so I wanted to celebrate what was going on in my adopted home town. I also believe if you don't use it, you lose it!"
She continued: "I've launched my campaign to encourage people to try something new, whether that's going to a comedy night for the first time or trying a dance class or going to a gallery they've never been to."
In the UK, 10 percent of children aged 5-16 have a diagnosable mental problem, and 50 percent of mental health problems are established by the age of 14, as reported by the Mental Health Foundation.
After reading many studies on the health benefits of art, Miss Edwards found two hours a week can boost your mentality and make you happier. She said:
Taking the time to see some amazing art, listen to live music or lose yourself in a film is a wonderful way to boost your mood, reduce stress and increase empathy. Basically, it makes you happy.
The Duchess of Cambridge has announced she will be launching a website to help teachers with providing support to their pupils with a mental illness.
The website 'Mentally Healthy Schools' will give teachers and staff vital information on how to help pupils within the classroom, as it may be hard to find the right information on the internet.
Miss Edwards added that art within schools is also a good way of helping children with their mental health, alongside the new website to provide teachers with support. She said: "Getting children doing art in schools boosts their self-confidence and problem-solving skills . It's also a form of mindfulness."
For more information on the campaign visit the Twitter page @pierbeyond