Construction company Interserve is being monitored by the Cabinet Office over concerns about its financial health.
The firm is responsible for the on-going work on Poole bridge, which began in 2016 but has been delayed eight times.
The Financial Times reported on Wednesday that the FTSE 250 company's shares fell by 15% in early London trade, sparking fears Interserve may go the way of competitor Carillion, which filed for liquidation on Monday placing 20,000 UK jobs at risk.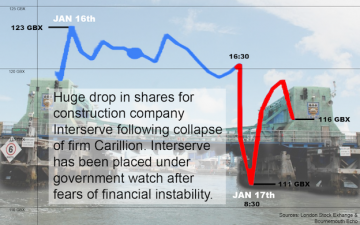 This latest development sheds further doubt over Interserve's ability to finalise the works on Poole bridge. John Rice, Engineering Manager for Poole Borough Council, said:
"The works are complete.
"The process that we are working through now is final testing and commissioning.
"That work is primarily being done by non-Interserve people, so the risk (of Interserve's finances impacting on the work) is very small."
Councillor for Poole Borough Council, Emma Williams, added:
"As of today, we have days left not weeks until completion.
"Interserve have had eight delays and there will be an enquiry that the council will initiate to look at why that happened.
"The council and councillors themselves have had an issue with it and want to take a look at what happened, mainly so it doesn't happen again on any other projects.
"Purely any delays now are to do with safety and the safety of Poole residents, that's where we are now and it's nothing to do with today's news."
Interserve brings in annual revenues of around £3 billion and employs 80,000 people worldwide. As well as working on Poole bridge, the contractor also signed a 'strategic estates partnership' with Dorset County Hospital NHS Foundation Trust in September 2017 to assist in the development of the hospital site over the next ten years.
A spokesperson for Dorset County Hospital said:
"The Trust has a development partnership with Interserve and Prime to explore site development.
"The partnership is non-exclusive and the Trust has no assets committed to it.
"No commitments for any developments or works have been made.
"Contractual arrangements protect the Trust and we have the ability to walk away from the partnership."
A spokesperson for Interserve responded to todays news, saying:
"Last week we announced that we expect our 2017 performance to be in-line with expectations outlined in October and that our transformation plan is expected to deliver £40 million-£50 million benefit by 2020.
"This remains the case and we expect our 2018 operating profit to be ahead of current market expectations and we continue to have constructive discussions with lenders over longer-term funding."
"We are a recognised strategic supplier and are keeping the Cabinet Office closely appraised of our progress as would be expected, but are not classified on a high risk watch list."
Keep up to date and read more about the Poole bridge construction with Buzz News: http://buzz.bournemouth.ac.uk/