A revolutionary robot which has been lending a helping hand to Bournemouth surgeons, could be rolled out across the country within five years.

The motorised arm, named the Mako robot, was introduced to the UK last year with Bournemouth being one of its first destinations.
Made by company Stryker, its purpose is to assist surgeons by helping to improve accuracy.
It's hoped the technology can allow them to perform the "perfect" hip replacement.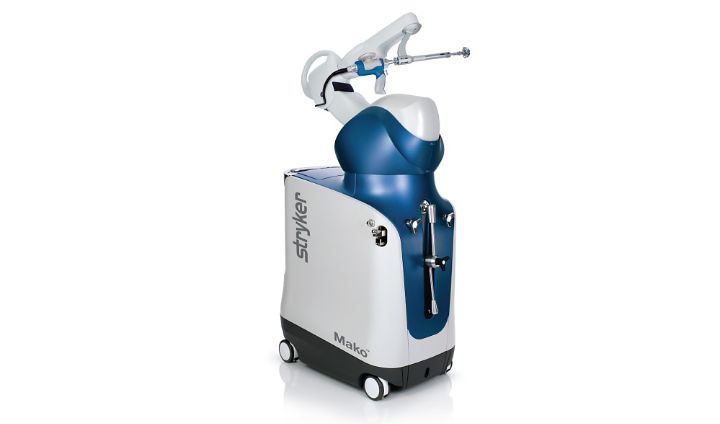 The Mako ensures surgeons are operating on the correct area around the hip. If they go out of the predetermined plan, the robot will then point them in the right direction.
Over 30 patients have already been operated on using the new device.
Orthopaedic surgeon Professor Robert Middleton, who has been performing the surgery at the Nuffield Bournemouth Hospital, says the technology is one of a kind.
I've been involved in robotics for over 20 years now. This is the end of 20 years development.
"Up until then robots have been used for research.
"The present robot is the first one where the technology is now at the level where one can use it in routine operations."
Professor Middleton explains how the Mako robot works:
As a result of its immediate success, the technology could soon be launched countrywide.
A research trial will now be undertaken at Bournemouth University to determine the long-term health and economic benefits the device can offer.
Professor Middleton said:
If within five years, the robotic hip surgery shows the promise that it initially adjudged to then maybe it can be something we can offer routinely.
"The groundbreaking work will be the work that Bournemouth University are doing in actually quantifying what the benefits are.
"The aim of this is to recruit 30 patients to go into a research trial where we will then look at the outcome."
Professor Robert Middleton discusses the importance of Bournemouth University's work:
The current cost of surgery with the Mako robot stands at £12,000, including aftercare. However, Professor Middleton hopes to see this change in the future.
"We hope that overtime the cost of technology falls.
"If we can show patients get out of hospital quicker there's obviously a saving for that, and if patients get back to work quicker there may be economic benefits to that."