One woman in Bournemouth has taken an unusual approach to saving our oceans…through the art of jewellery.
The story in short:

Naomi Townsend is making her mark on the world of conservation, by designing jewellery and donating the profits towards marine protection.
The 22 year old, who lives in Bournemouth, launched the project Thalassophile Bracelets  two months ago, and her work is already making a difference.
From Lyme Bay all the way to the Maldives, Naomi is donating 65% of all profits from the bracelets across the globe, all to battle ocean pollution and its effects alongside charity BLUE.
Despite being young, Naomi took an interest in conservation whilst completing her Law Degree at Bournemouth University where environmental law was her focus.
"After placement year I realised the dog eat dog world of law was not for me. I don't have the hardiness you need, and the idea of fighting over money and not for the good is so unappealing."
Deciding to make bracelets for change, Naomi had a big task ahead of her:
"I've always fancied myself as an entrepreneur, and so it was a chance to combine that with giving back to the world. I remember spending hours thinking of a good product to sell, and I went through three different ways of making the bracelets until I settled. I needed something cost effective, and something people would want to buy, bracelets seemed to be the best to suit this."
Having bracelets on show, Naomi believes they spread the message on conservation subtly but effectively.
"It's a reminder of the help you've given and the help that is needed. People notice them ask you about them and it's like self-advertising for the ocean and passing on the message that actually there is a problem, and it needs fixing. So many people are unaware of how much pressure our oceans are under."
With a passion for ocean protection, she's keen to spread the message in the future too.
"This is the area I want to work in for the rest of my life. Although we have several oceans, they are all connected, one big body of water and the plastic filled sea in Barcelona for example is going to spread all over the world."
She's not the only person in Bournemouth trying to make a difference. Peter Ryan, founder of Dorset Devils runs and controls beach clean ups, understanding the impact waste is having on our local coast.
"Our most common form of waste found on our beach and coastline is plastic pollution in its various forms which then make its way in our seas. Plastics do not disappear but gradually over time reduce in size. They are harmful as soon as they are left in our environment.
"Marine life and
seabirds are particularly affected
by plastics pollution as they are either entangled or trapped in fisherman's netting. Turtles are known to think plastic packaging is jellyfish which has dire consequences long term."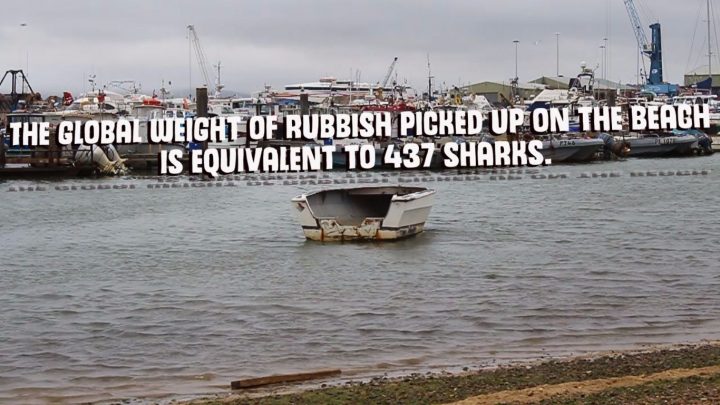 Naomi has produced three bracelet styles so far, with many more in the making. Formed out of straw, metal clasping's and a metal charm, no plastic is involved in the process due to its long decay time.
"The classic style bracelets donations go to BLUE's Lyme Bay Project. The project has uniquely brought together fishermen, conservationists and regulators in the name of sustainable fishing.
"The breach style bracelets donations go to BLUE's St Helena project. The 14 overseas territories hold 96% of the UK's biodiversity, but few are well protected from excessive or illegal fishing.
"The coral bracelets donations go to BLUE's Maldives project. The project aims to conserve the extremely vulnerable and valuable tropical reef fish: groupers. They are exported live to Hong Kong leaving stocks close to collapse. BLUE is working to restrict the export of groupers and so revive the population."
Explaining why she partnered with BLUE, Naomi said:
"BLUE do incredible work with many projects worldwide.  Visiting them and having a meeting just confirmed the incredible work they do."
This is just the start for Naomi, who has other secret projects in the pipeline as we speak.
"I plan to work for marine conservation for the rest of my life, and work hands on in research and promoting ocean protection."
How sustainable are you? Take our quiz to find out
Want to know more about how pollution affects wildlife? Watch our other videos here:
Air pollution and global warming
In numbers: Ocean pollution