With Shrewsbury set to become the first club in England to experiment with a safe standing area in their ground, Daniel Statham has been off to find out about the history of standing in English football and why some are still opposed to safe standing.
Standing in English football stadiums has been banned ever since the aftermath of the Hillsborough disaster. The disaster saw 96 Liverpool fans tragically lose their lives. Lord Justice Taylor, the independent reviewer into the tragedy, suggested that the only way to prevent another disaster of this scale was to enforce all seater stadia. Home secretary Douglas Hurd created the all seater stadia law which meant any teams that had spent 3 years in the top two tiers of English football needed to have all seated grounds. This means 71 out of the 92 stadiums are all seater venues whatever tier they may be playing in now.
Shrewsbury is one of the 21 clubs that are not enforced to have an all seater stadium. This is why they have been allowed to reshape their ground following fan opinion to transition one of the areas into a 'safe standing' area. But what is safe standing?
Safe Standing is a rail seat, which has a barrier going up to the waist with an attached seat giving people the option to either sit or stand. This is a substantial technological advancement from the old pens and terraces of the 80's and 90's, and has been subject to rigorous safety tests. The only 'safe standing' area which is currently in existence in the UK is at Celtic Park. This area holds around 3,000 fans and has been in action since 2016.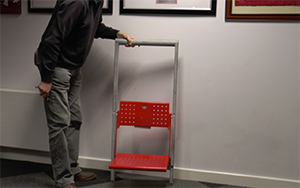 The lead campaigner for safe standing is Jon Darch. Jon takes his safe standing roadshow around the country showing the idea to football teams, amassing support from clubs from all tiers. I asked Jon why he thought the all seater stadia law should be overturned. Jon said: "It's a matter of choice and it's a matter of doing what is right. There's no reason why football fans shouldn't have the same freedom of choice as rugby fans or indeed football fans of lower division clubs".
Jon continued: "It's also the right thing to do, to allow that choice, because the standing ban is wrong. The Thatcher government introduced the concept of all seater stadia very much in the context of the lie that was Hillsborough was caused by hooliganism, and therefore because that lie has now been proven wrong in a coroner's court, it is time to overturn the standing ban which is premised on that lie, it's the right thing to do".
Although not every club has supported the safe standing movement, Liverpool are a club which has a complicated relationship with standing. Following the disaster which saw 96 of their fans tragically die, the Hillsborough Family Support Group (HFSG) is still overwhelmingly against standing in football, whether that be the new rail seating concept, or a return to old terraces.
Sue Roberts, who lost her brother Graham at the age of 24, is one of those HFSG members who is against standing in football. Sue said:
My brother, Graham, was one of the 96 unlawfully killed in the crushing in the pens at Hillsborough on 15th April 1989. The cause of death was given as compression asphyxia."
"We all know there were many factors that contributed to the deaths of our loved ones, but had Graham been seated instead of standing this could not have happened. I've said it before and I'll say it again, I think any form of standing is a step in the wrong direction."
Portsmouth are one of the many clubs who are not allowed to have a standing area in their ground due to their previous league finishes. Currently in Sky Bet League 1, Portsmouth fans are encouraged to sit whilst they watch games at home at Fratton Park. However, when they are playing away fans can stand up at many grounds, including Bristol Rovers, Peterborough, Scunthorpe, AFC Wimbledon and Fleetwood who all having standing terraced areas in their grounds.
Colin Farmery, the head of safeguarding and inclusion, had this to say about Portsmouth football club and standing. Colin said: "The club conducted a survey of our fans on safe standing in the autumn. There is a clear majority of them who support the idea in principle and who would consider using it if it were available."
The matter of the fact is, that no matter how much support there is for standing at football matches, it is currently prohibited by the all seater stadium law in the top two tiers. Yet scores of fans persist to stand in front of seats in all tiers. The chief of stadium safety in the UK, Ken Scott, actually suggested that the issue of stadium safety lies more with the fans who stand in front of a normal seat. Ken said: "Persistent standing in seated areas there is most definitely a safety risk attached to it. We have been trying to solve this issue for a number of years now."
"There is no doubt that Lord Justice Taylor got it right when he said that there isn't one single factor that will cure the issue of safety at sports grounds, but there is a factor that will give more improvement, or the biggest benefit and that is making venues all seated, and it was on the assumption that people sat in the seat that is provided, but clearly there is a strong group of people that would prefer not to do that."
Jon Darch is also concerned that persistent standing could lead to a potential disaster. Jon said:
"The fans who are standing behind normal seats in the Premier League and the EFL are not being accommodated as safely as the fans who are standing at Celtic behind rail seats. Because the fans at Celtic have a barrier in front of them just above waist height, they can sing and dance and jump around as much as they want and make a lot of noise, but they can't fall over, and no one can fall on top of them."
Jon continued:
Nobody is getting seriously injured but people are getting cuts and bruises and the floor of all those stands is hard concrete, it only takes one person to crack their head on that concrete and you've got a disaster".
With persistent standing the real issue at play here and the successful trial of safe standing at Celtic, it can't be too long until Football's governing bodies decide that rail seating is a viable solution which may prevent any possible disasters in the future. It remains to be seen as to whether the governing bodies, safety chiefs or even government officials are persuaded by the safe standing campaign. With more and more clubs coming around to the idea, it might not be too long until rail seating is allowed in all football grounds in the United Kingdom, with Shrewsbury, potentially the first in England. One of the hottest debates in English football will surely continue to rumble on for a little while longer.