In February 2008, the future of AFC Bournemouth was put in grave danger, as the club entered administration after racking up £4 million worth of debt.
That season they were relegated from League One, the third tier of English football, and were almost blocked from participating in League Two before the 2008-09 season, due to continued problems with administration and ownership.
Fast forward 10 years, and the South Coast side are now the 28th richest club in the world, sitting 12th in the top tier of English football.
This is according to the Football Money League Report for 2018, which is compiled by accountants Deloitte, and ranks the top 30 highest revenue generating clubs in world football.
BUzz News asked some Bournemouth locals what the ascent of their football club has meant to the town: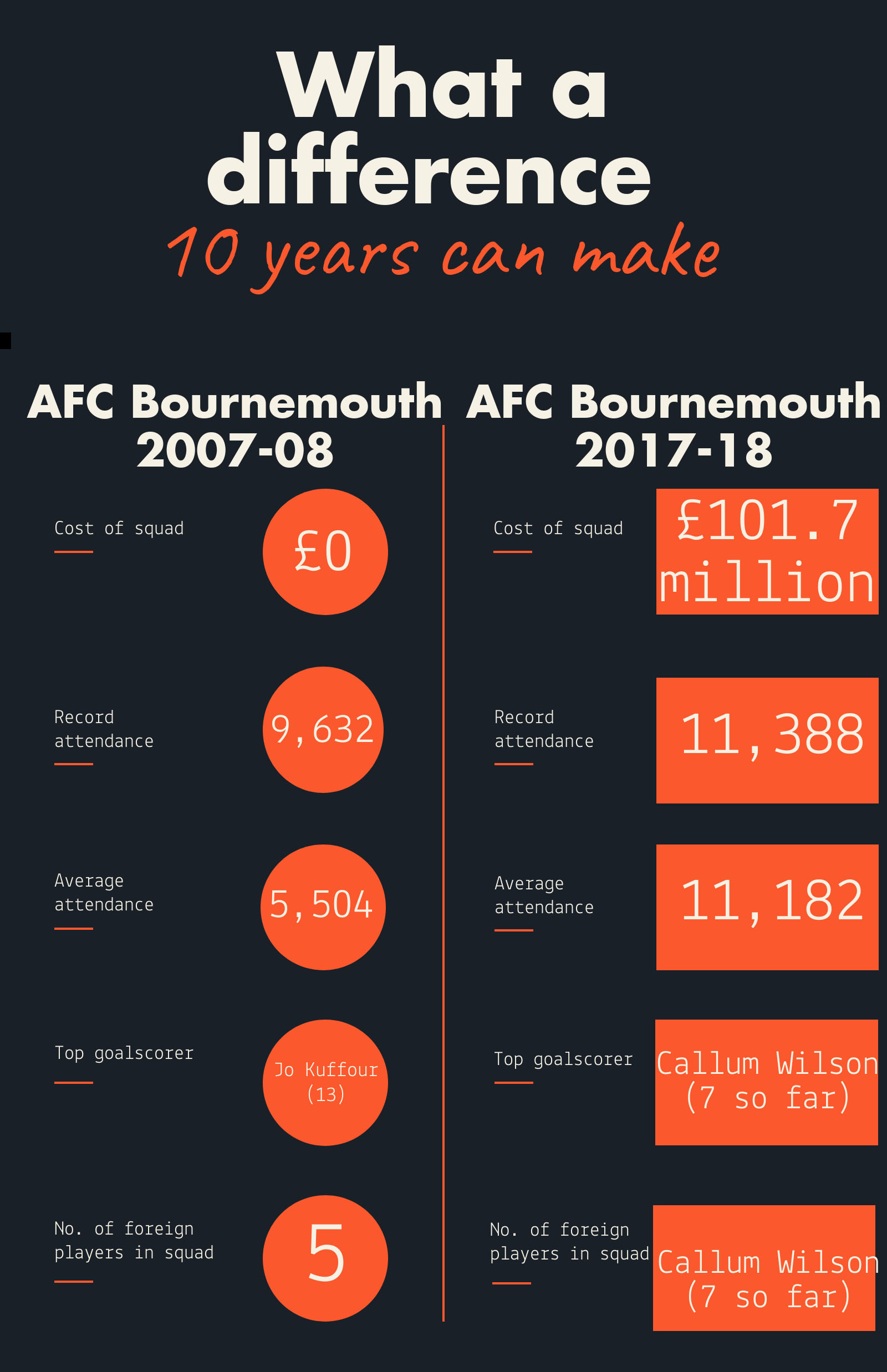 It is an unimaginable rise in fortune for the Cherries, who are now in their third Premier League season under Eddie Howe's leadership.
With a stadium capacity of 11,360, considerably the smallest in the Premier League, AFC Bournemouth's home stadium is the 67th biggest football stadium in England.
But with plans approved for a new 10-pitch training complex, and a brand new stadium expected to follow, the Cherries are now classed by many as an established Premier League outfit.
In January 1997, 2,000 Bournemouth fans came out in force to save the club, filling buckets of cash at Winter Gardens' to make sure their beloved team continued to play football.
That year AFC Bournemouth generated revenues of £1 million. Last season, the Money League report says the club made a revenue of 159 million euros in 2016/17.
What is the Deloitte Football Money League?
Deloitte provide an in-depth analysis into the richest clubs in the world, but how do they work it all out?
BUzz News spoke to co-author of the football money report, Sam Boor, who explained how the list is compiled and why AFC Bournemouth are so high up in the table, citing their 9th placed finish last season as a major factor: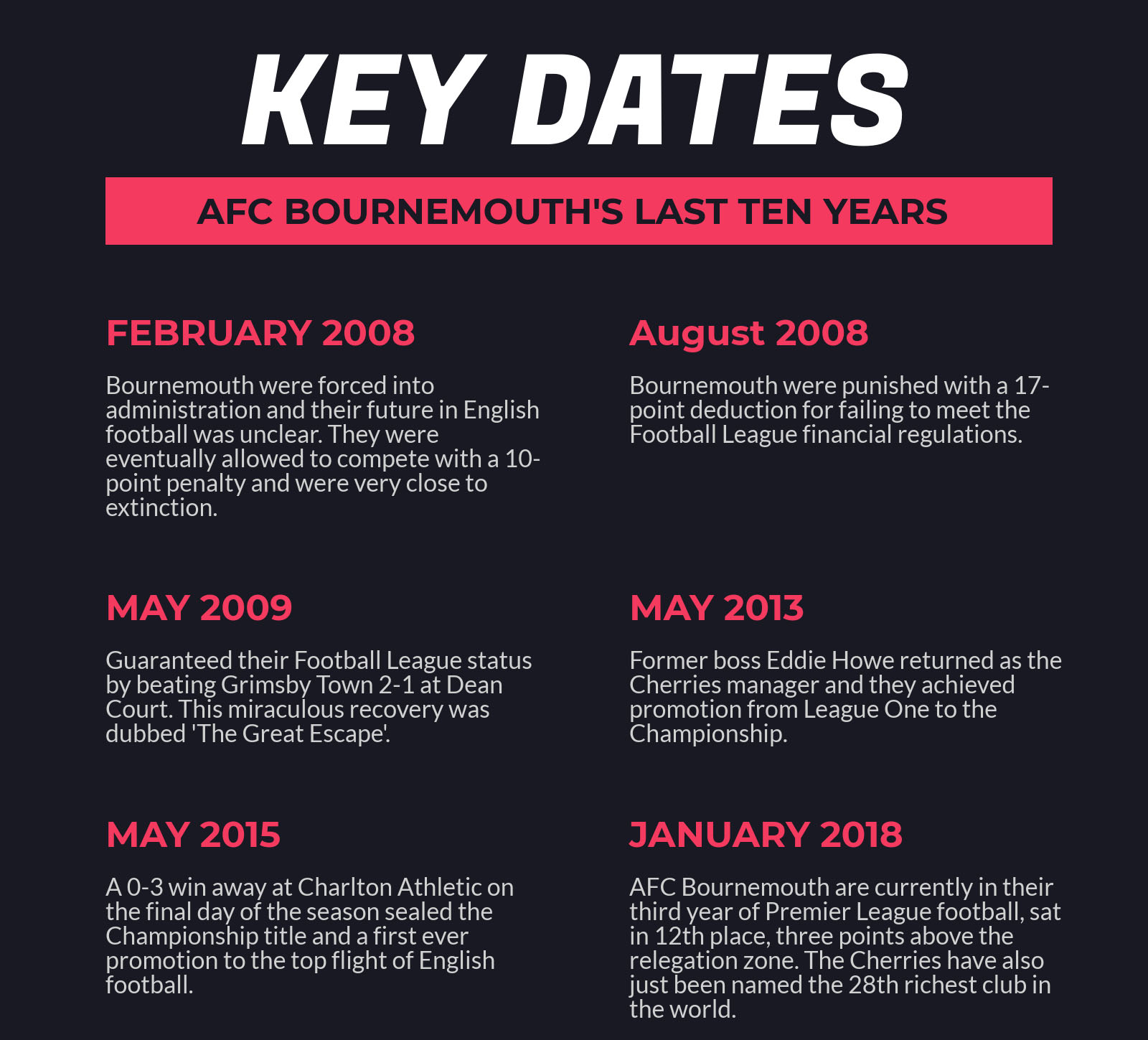 Top of the list is Manchester United, closely followed by Real Madrid and Barcelona. 14 Premier League clubs appear in the top 30 richest clubs in Europe, five of whom (Man Utd, Man City, Chelsea, Arsenal, Liverpool) appear in the top 10.
The full table: 2016/17 Revenue (€m):
1 – Manchester United – 676.3
2 – Real Madrid – 674.6
3 – FC Barcelona – 648.3
4 – Bayern Munich – 587.8
5 – Manchester City – 527.7
6 – Arsenal – 487.6
7 – Paris Saint-Germain – 486.2
8 – Chelsea – 428
9 – Liverpool – 424.2
10 – Juventus – 405.7
11 – Tottenham Hotspur – 355.6
12 – Borussia Dortmund – 332.6
13 – Atletico Madrid – 272.5
14 – Leicester City – 271.1
15 – Inter Milan – 262.1
16 – Schalke 04 – 230.2
17 – West Ham United – 213.3
18 – Southampton – 212.1
19 – Napoli – 200.7
20 – Everton – 199.2
21 – Lyon – 198.3
22 – AC Milan – 191.7
23 – Zenit Saint Petersburg – 180.4
24 – AS Roma – 171.8
25 – Borussia Mönchengladbach – 169.3
26 – Crystal Palace – 164
27 – West Bromwich Albion – 160.5
28 – AFC Bournemouth – 159.2
29 – Stoke City – 158.3
30 – Benfica – 157.6