Bournemouth accounts for only 2 of the 183 venues taking part in Independent Venue Week this year.
Independent Venue Week (IVW) is a "celebration of small music venues", running from 29th January to 4th February.
As the event comes into its 5th year, its impact on Bournemouth as a music hub is relatively small.
This Sunday, The Magic Gang are headlining a We Broke Free show at The Old Fire Station.
This week will also see Chaplin's hosting 4 IVW events.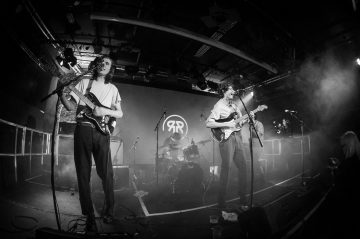 Adam Fox founded We Broke Free and believes Bournemouth's music scene is thriving. His plans for IVW are taking local acts across England, before a grand finale back home.
"People don't think a music scene exists or they downplay it, but there are a lot of really good up and coming bands and venues coming out of Bournemouth."
But whilst these two venues are involved in the festivities, other places across Bournemouth and Dorset have not been chosen to take part.
The Anvil and The Bunker, both on Holdenhurst Road, as well as Mr Kyps in Poole, are not involved with the national scheme.
Chloe Ward, Event Director, assured that venues who are not yet on the list that can approach the organisation and ask to take part.
She said: "where we haven't got bigger numbers we will try and do a bit of research to see where they are in those areas and approach them.
"We're such a small team, we don't really have the resources to be actively approaching every independent music venue around the UK."
However, Bournemouth has had to say goodbye to many of its venues in the last year.
Popular venue The Winchester closed their doors in 2017, Winton's Buffalo Bar was shut down earlier this year, and now Mr Kyps have announced they will be closing in June.
Chloe believes that IVW can help smaller venues survive and compete against the bigger, more well known chains. By starting going to smaller gigs early on in the year, she believes this sets a good precedent for the future.
Chloe shared that things are changing in the industry, and that independent acts and venues are gaining more recognition. She encourages Bournemouth gig-goers to remain hopeful for a brighter future.
If you want to nominate your venue for Independent Venue Week 2019, contact: robbie@independentvenueweek.com