The Beachhead 2018 Wargames Show, held at the Bournemouth International Centre on the 17th of February, attracted over 200 visitors in the first hour and just under 900 visitors in total.
The annual convention was first held in 2016, and hosts an array of enthusiasts of miniature model war games and figures.
The show floor was comprised of stalls manned by traders, people who were showing off their pre-made sets and people running demonstration games as well as tournaments.
The event gave many sellers of miniature models, who normally trade online, an opportunity to sell in person that they otherwise wouldn't get. Especially for such a niche market such as wargaming.
Martin Goddard from Peter Pig, a seller of miniature figures, told me that "60% of people do this as a hobby business."
"If I set up a shop in the middle of Bournemouth, I'd go bust. We're nowhere near the size of a proper company, hence why we're not limited."
"If it wasn't a hobby, I wouldn't bother doing it."
Another trader, Paul Thompson from Early War Miniatures who travelled from Hertfordshire for the event, said "It's a great thing Peter [the event's organiser] does and we're here to support him, he's one of the good guys in the industry."
"This doesn't feel like work. Obviously we will still take some money, but that's not the main reason."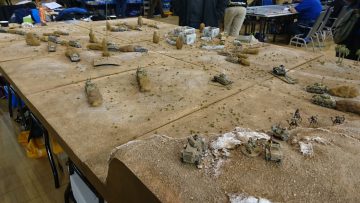 In addition to traders were those showing off their wargame exhibition sets. This included the 'Old Pikeys Wargamers' who built a model exhibit based on the World War Two battle of El Alamein.
Mike Andress from the group said the event "promotes the hobby and it's just to show off really."
"It's nice when people say you won best [exhibit] in show, but we don't really give a monkey's who wins. We're all friends in here at the end of the day."
One common connection between most of the people running stalls or showing of exhibits at the event, is that they do it mainly for the passion of the hobby and not for financial gain.
The convention is organised by Entoyment, a wargaming a model store based in Poole, and many people offered to be a part of the event just because they wanted to support the organisers.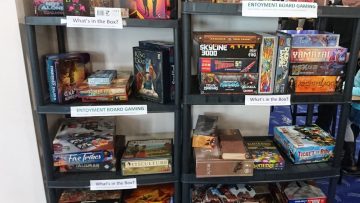 That includes Stuart Cresswell, a board game enthusiast who volunteered to showcase and demonstrate new board games, including some he imported from other countries, to visitors. "Kickstarter has helped more independents to launch more games."
"There's so much good stuff being produced at the moment that people don't know about. They just play what's in front of them."
Entoyment host games nights in their shop after they close for trading. For more information on those, click the link here.