Dorset Police's 'No Excuse' road safety team are steeping up patrols this week to tackle dangerous and inconsiderate driving.
They are on the streets of the county aiming to eliminate the 'fatal five' from the roads – drink and drug driving, excessive and inappropriate speed, not wearing a seatbelt, driver distractions such as hand held mobile phones and careless driving.
The team are in operation 24 hours a day, 7 days a week and could be anywhere at any time hoping to catch dangerous drivers and enforce mobile phone laws.
The current penalty for driving whilst using a mobile phone or similar device is 6 points on the license and a £200 fine with no opportunity for drivers to attend a driving awareness course to avoid taking the points.
A poll on the Dorset Police No Excuse Twitter page has already received over 3,100 votes on what people think the penalty for using a mobile phone while driving should be, with 35% saying the penalty should remain as 6 points and a £200 fine and 26% believing it should be a £1000 fine with the 6 points.
20% of those who have voted on the poll believe people should be disqualified from driving and made to retake their test if they are caught using a mobile device in the drivers seat.
The team are enforcing the message of 'No Mobile When Mobile', to highlight the seriousness of the issue and to crack down on the number of people who use their mobile phones while driving.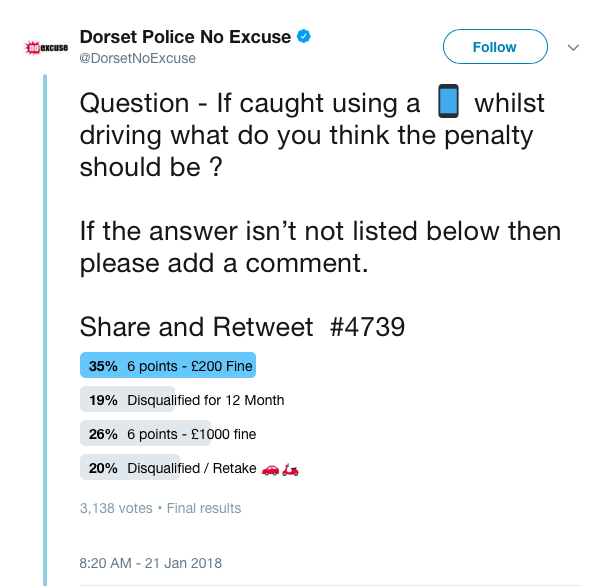 The undercover officers have been hiding out in bus shelters and other hidden areas on the streets with the aims of catching people who are driving dangerously or breaking one of the 'fatal five' rules.
Over just one day last week, 24 drivers were caught in the Dorset area for using their phone whilst in the drivers seat. Four drivers were found to not be in control of their vehicle, 2 drug users were caught and one person was caught not wearing a seatbelt.
The Dorset Police No Excuse team are needed on the streets to reduce these numbers and improve the safety of pedestrians and drivers in all vehicles.
Dorset Police are stepping up tactics to tackle dangerous driving in the area with the 'No Excuse' initiative: