BOURNEMOUTH's Geva Mentor was named the World's best netball player in 2014 yet mum, Yvonne, says no one recognises her.
Geva sealed her best Netball Quad Series finish ever with the England Roses this week. A 52-47 success against South Africa confirmed their second place spot on the table.
Yvonne Mentor says coming back to Bournemouth keeps Geva grounded because "I don't think Bournemouth are aware that she even exists."
She added: "Back in Australia she is a minor celeb."
Well that's a wrap! It was incredible to play in front of such amazing crowds in 🇬🇧 & 🇿🇦 #QuadSeriesTwoComplete #WeAreRoses 🌹 pic.twitter.com/LlCzUMHuiA

— GevaMentor (@GevaMentor) January 28, 2018
33-year-old Geva, balances playing netball for her country with studying for a bachelors of education, but her mum says she remains humbled by her talents.
"She doesn't fully appreciate just how much of an influence she has both here in the UK and in Australia."
While growing up in Dorset, Geva was selected to play for senior England netball at age 15. This meant that Yvonne would take her to distant training sessions and matches, which came with sacrifices for the family. 
Yvonne said: "Her seven year brother was the one who missed out as he would often have to come out of school early. We would often not get back until after midnight."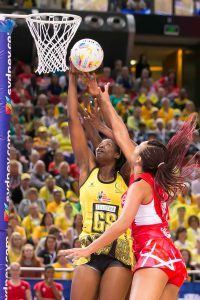 In an interview with BBC Sport this week, England Netball development officer Pauline Knight stated that netball is currently "thriving."
However, Yvonne Mentor – sports coach and mum of Geva thinks that the sport is just finally getting the recognition it deserves. "Netball has always been popular, it's not on the rise it's just the media finally jumping onboard."
She added: "England Netball is making a big thing about it because of Lottery Funding."
The English team are ranked third in the World and with increasing awareness of the sport, this means that young women idolise players such as Geva.
Yvonne says it makes her feel "brilliant" that her daughter has inspired others to pick up a ball and give netball a shot.
Yvonne simply said, "it's what each generation should be doing, encouraging the next generation to be active and take part."