A construction worker from Verwood is campaigning to provide local elderly people in Dorset with professional property maintenance at no cost to them – to ensure a comfortable, healthy home environment.
Richard Elgar set up the 'Fix it 4 Pensioners' scheme with his wife Helen at the start of the year, and has already attracted the attention of many local trusted professional traders who would love to get involved.
After hearing one too many stories where elderly residents in Dorset had been taken advantage of, Richard decided enough was enough. "I heard about an elderly lady that was questioned by staff in our local Lloyds bank because she came in to take out a large sum of money twice on the same day. It turned out to be for some dodgy blokes to do some work on her house that they never carried out.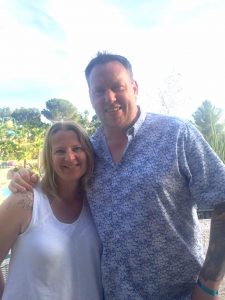 "Secondly, I saw someone put on Facebook a while back, that their elderly father had been swindled out of some money by two guys that said he had work that needed doing. It didn't need anything doing and they took him for about £700. It made me so angry and it's Just been playing on my mind ever since – I'm tired of seeing the elderly being taken advantage of."
The 47 year old currently works for a construction company as a purchaser and general builder and wants to use his industry skills to help maintain homes at no expense to the older person at all.
If he is not able to do the job himself, Richard said: "I would only use trusted professionals that I know from my position working for a local building firm for the last 14 years."
The father of two started the Crowdfunder campaign, titled 'Fix it 4 Pensioners – Free DIY for the Elderly' which has only just kicked off. It's already raised £120 but the current goal is to raise £30,000 to help with equipment and labour costs, as well as help with raising awareness of the scheme. The aim is eventually to obtain Council support in order to have a more stable and regular funding.
The elderly population in the UK, is often most at risk from door to door scams.  In fact, 85% of victims of doorstep scams are aged 65 and over, according to National Trading Standards.
Richard believes this scheme will reduce the need for the elderly to seek service from doorstep traders. "I feel that it would be a huge help to many older people, especially people that may have lost their life partners perhaps and find it difficult to deal with odd jobs around the house and garden.
"I'm certain nothing like this has been tried before. If the scheme works in Dorset then it could work in many more areas."
Please fill out our survey to share your experiences with Doorstep Traders:
You can support this campaign on Crowdfunder and help reach its £30,000 target here.