Imagine an ethnic minority being denied access to basic rights because of their race. Shocking, right? Well that's what's happening to the UK Gypsy/Traveller community.
In a questionnaire conducted by Gypsylife – Nottinghamshire, 100 members of the Gypsy and Traveller community were asked:
In the last 12 months have you or anyone in your immediate family been the victim of any racist incidents, comments or attitudes in Nottinghamshire in any of the areas below?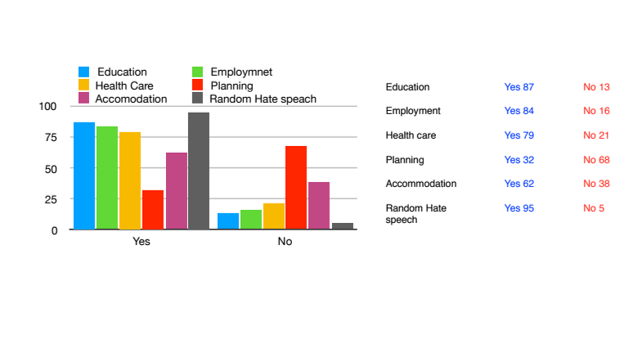 Gypsylife also asked the respondents if they have ever hidden their ethnicity in fear of being treated differently, of which 94% answered yes.
I spoke to Natalie Bennett, CEO of Gypsylife who gave insight to the racism gypsies and travellers are faced with every day.
She informed me that members of the Traveller/Gypsy community are dying 20 years younger than the rest of the population due to being denied access to basic healthcare that the rest of the British community take for granted. Natalie solely puts this down to institutionalised prejudice and believes that the only way to stop the discrimination is to start recognising the community as equals. "If people abide by the law and stopped denying people services the problems would answer themselves. It's systematic racial abuse, if it was happening to any other ethnic minority there would be national outcry".
Only 15% of the community live in caravans, the other 85% being settled and living in houses. However, despite them having accommodation they are still refused basic healthcare needs. Natalie explains that many gypsies and travellers are refused a GP and unless they can't afford private healthcare there's not really a lot they can do. "There are women dying because they can't access healthcare during childbirth and 1 in 5 mothers experience a death of a child before they reach the age of 5". She adds that mortality rates as a whole for the Gypsy Traveller community are higher than any other ethnic group.
Natalie explains that the acceptance of racial abuse towards the Gypsy/Traveller community is down to the acceptance of hate crime and general treatment by society in general.
Natalie moved into a house due to the lack of resources available to Gypsies living in caravans so that she could offer a better life to her children but after the abuse received has now resorted back to living in a caravan on her own privately owned site even though she doesn't particularly enjoy travelling. Whilst living in a house she experienced prejudice grafitti on her home and vehicles. Since living on her family site, her family have been sent burning crosses, voodoo dolls and her neighbours even burnt an effigy on their land. "There were things on the council planning website saying how are we going to stop the Gypsies breading and how are we going to deal with the Gypsy issue, where is the money going to come from to pay for extra policing" blatant racial hatred that would never appear on a council planning site if it was about any other ethnic group.
Gypsylife ask that all agencies assess the extent to which they are meeting the needs of their Gypsy and Traveller communities through cultural awareness training.
"Gypsies and Travellers continue to be highlighted, in recent reports by Government and local authorities as underserved, vulnerable and in need of support."
You can find more information including other research programmes on Gypsylife