A local charity helping those with cancer have spoken of the importance of World Cancer Day.
Taking place on February 4th, it see's charities all over the world coming together to raise awareness and unite to fight against cancer.
Worldwide, 8.8 million people will die from the disease each year. In Dorset alone, around 5,400 people are diagnosed with cancer, and takes around 2,300 lives each year, as found by Cancer Research UK.
Bournemouth based charity, Wessex Cancer Trust, support those with all types of cancer through a variety of ways.
Manager of the Wessex Cancer Trust, Emma Ormrod stressed why it's an important day for those fighting the disease, those who have beat it, and even friends and family whose loved ones may have it.
As the centre is not funded by the Government, World Cancer Day is vital to ensure they can continue to provide free services to the people who use them, by receiving donations.
Whether it be Reflexology, coffee mornings, counselling or book club, the centre can offer many vital support groups for both adults and children.
Cancer Research UK are also one of the many charities raising vital awareness and encouraging as many people to fight against cancer.
Alison Birkett, South West spokesperson for Cancer Research UK said: "World Cancer Day is a great opportunity for people to show solidarity with everyone whose life has been touched by cancer – from patients currently going through treatment, to survivors, to friends and family of those with the disease.
It's a way to show that, together, we are a powerful force against the disease.
Miss Birkett continued: "We want to give more good news to people with cancer and their families."
Selling unity bands, they are hoping to raise funds to help continue research into the 200 different types of cancer.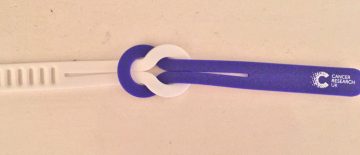 For more information on research or treatment visit www.canceresearchuk.org or to find out more about your local cancer support centre and services available visit www.wessexcancer.org.uk