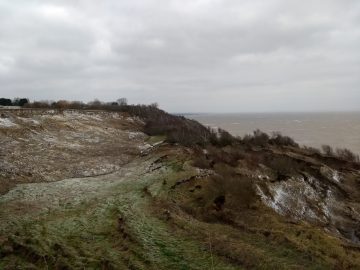 Connett's Farm in Eastchurch on The Isle of Sheppey, Kent is slowly shrinking, as coastal erosion claims more land year on year.
The island is prone to coastal erosion which is currently happening all around the coastal edge of island, from the Minster Leas to Warden point.  Many locals are being directly affected as their land, homes and livelihoods are falling into the sea.
Clive Phipps of Connett's Farm is one of those Islanders directly affected, he said: "We're losing a metre of our farmland a year on average, which is just crumbling into the sea."
Local MP Gordon Henderson raised the issue of coastal erosion on the north coast of Sheppey in Parliament back in December.  Natural England have deemed the area as a sight of special scientific interest (SSSI), resulting in a 'non-intervention' policy, meaning locals must let nature take its course.
Mr Phipps said: "Not once have there been any scientists carrying out tests on the cliffs, so their reasoning of scientific interest seems outdated and inadequate."
Locals are still campaigning for a solution to the erosion which is only continuing to eat into Sheppey's coastline.