Chris Evans' has caused quite the frenzy with Captain America fans.
The actor tweeted last night that he has 'officially wrapped on Avengers 4' and went on to say what an honour it had been to play the character. Though this has now caused people to speculate whether or not this means that the avenger has died in the latest film.
Chris has played the role of Steve Rodgers, AKA Captain America, across 10 films in the last 8 years.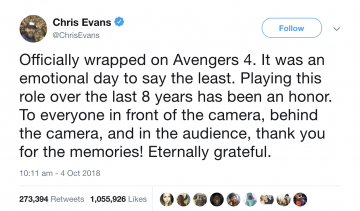 Responses to the tweet show it's pretty clear that most are saddened by the latest development, despite us all knowing the fate of the character from the comics.
Fellow Marvel Actor, Ryan Reynolds, who plays anti-hero Deadpool, was among those to reply to the news.

Also showing their disappointment is former boyband member Liam Payne who said he was 'so sad' to hear that Chris Evans will no longer be playing the Marvel hero.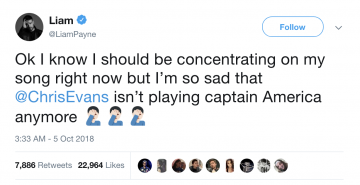 Although neither Chris nor Marvel have confirmed the speculation, if they are planning to follow the story in the comics then the characters departure is likely.