Hundreds of thousands of angry citizens joined the People's Vote March for the Future on Saturday demanding that the Government let's them have their say in the final Brexit deal.
Coaches brought protesters from all over the country, including four from Dorset, and nine from Bristol. Some even came from as far away as Orkney, travelling through the previous day.
The march started near Marble Arch on Park Lane, travelling through Pall Mall and Trafalgar Square and ending at Parliament Square where the rally was held with speeches from London's Mayor Sadiq Khan, MPs from all parties, and various celebrities such as Delia Smith and Deborah Meaden. But many of the people attending did not make it to the speeches as around 670,000 people descended on the capital meaning people near the back of the march, which is speculated to have reached as far back as Picadilly, could not reach Parliament Square in time.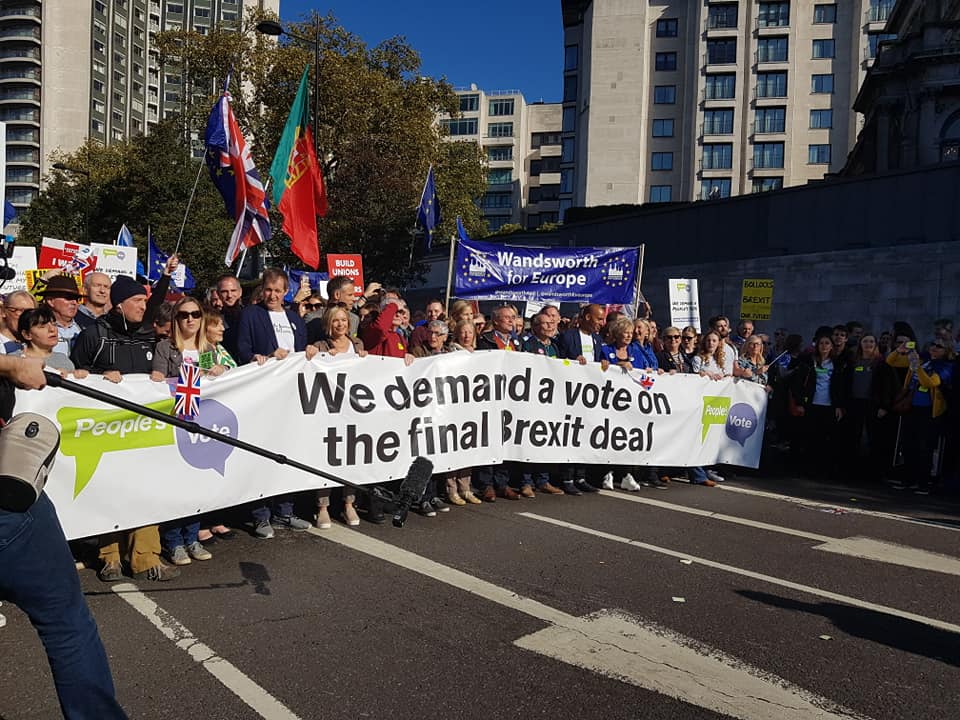 The event was organised by campaign group People's Vote, and was supported by other groups such as Dorset for Europe, Open Britain, Scientists for EU, For Our Future's Sake and many others.
All together now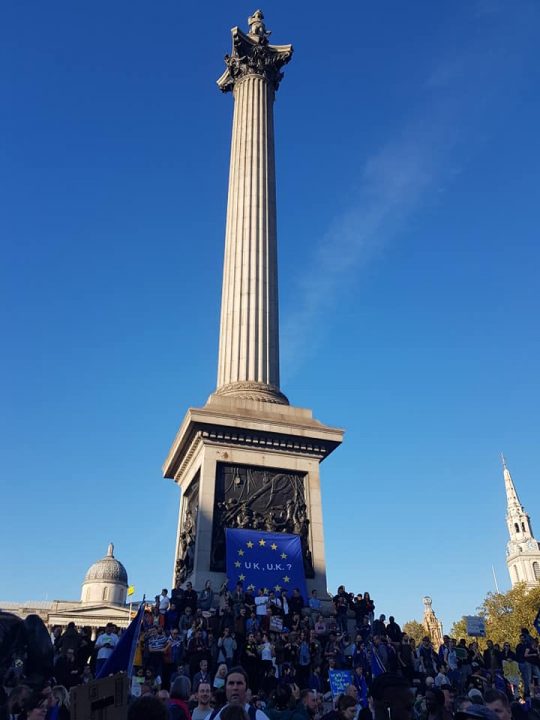 EU flags and placards, such as 'Never gonna give EU up' and 'Stop Tory Brexit', lined the skies above the parade. One banner held by an older couple read 'We are doing this for our grandchildren'. The blue flags waved in the slight breeze, and looked striking against the backdrop of the blue sky and the green trees of St James' Park.
Cheers echoed through the streets, rippling through the crowds. Every so often chants would break out, including 'Hey Theresa May, we demand a final say'. Drum troupes kept the spirits up, dotted along the path, and some people brought along speakers to play fitting music such as 'You can get it if you really want' by Jimmy Cliff and 'All Together Now' by The Farm.
In Trafalgar Square, near the end of the march, a party atmosphere began. More speakers blasted out music, more drums could be heard. One man set up his guitar and started singing 'Imagine' by John Lennon. Hundreds of people gathered around the monuments, one group held up a very large sign by Nelson's Column stating 'UK, U.K?'
I'm really hoping they realise that Brexit will be completely impossible to deliver without destroying the country and they'll withdraw Article 50.
Many people attending the march hope that a new vote will be done on the terms of leaving the EU, and most campaigners are hoping that a new ballot will again include the option to remain.
Democracy doesn't just happen on one day, democracy is an ongoing process.
Now the wait comes for everyone, hoping that Parliament will do the right thing and listen to the will of the people.