Ten games into this extraordinary La Liga season Deportivo Alavés sit second in the table only one point behind leaders Barcelona. After making such an impressive start picking up twenty points and currently sitting above the likes of Real Madrid, Atlético Madrid, Sevilla all whilst playing some impressive football; but who are they?
History
Deportivo Alavés S.A.D commonly known as Alavés is a football club based in the Basque Country. The club was founded in 1921 and is currently competing in Spain's top tier of football, La Liga.
They are recognised as the third most successful team in the Basque Country behind Athletic Club of Bilbao and Real Sociedad de Futbol of San Sebastián.
In the early 50's Alavés reached the top league for a spell that lasted two years. However, success was short lived as they ended up spending most their time in the lower leagues until the 1990's; even having a spell in the 80's playing in the fourth division.
They returned to the top tier after a 42-year absence in 1998. They managed to avoid relegation that season by a single point.
The next campaign would be a very successful one. They achieved two wins against Barcelona and finished the season in 6thposition, which is their highest ever placing to date. This meant they had qualified for the UEFA Cup.
The Basque club reached the UEFA Cup final in 2000-01 season where they played arguably one of the greatest finals in European history narrowly losing 4-5 to Liverpool after extra time.
Alavés then went on to experience the 'yo-yo' effect where they saw the club relegated, promoted and relegated a number of times in the next fifteen-years.
In 2016 Alavés won the second division in dramatic style, winning the last game of the season 2-0 which meant they overtook Leganés on the final day to win the title.
In their first season back in La Liga they had a good season finishing 9thand reaching their first ever Copa del Rey final. They lost the game 3-1 to Barcelona but it was a historic moment for the club.
Abelardo Fernández
The current manager of Alavés is Abelardo Fernández who is a retired Spanish footballer. Abelardo had a very good playing career, playing Central Defence for Sporting Gijón, Barcelona and Alavés. As well as this he was capped fifty-four times by Spain, playing in two World Cups and two European Championships during the 1990's.
He went into management in 2008 when he took over as Sporting B first team coach. After a couple of jobs in the lower divisions of Spain he became assistant manager at Sporting Gijón as well as B team coach again. In 2014 he became Sporting Gijón first team coach and was in charge for three years and 110 games.
He took over as Alavés first team coach in December 2017. Since then he has transformed the team and had some very impressive results.
Key Players
Ibai Gómez, Spanish, Attacking Midfield, 28 years-old, Number 11.
The attacking midfield has been instrumental to the way Alavés play. He's only missed 38 minutes of football in the league this season showing his importance to the team. Gómez has scored three goals and got one assist so far this season and has been flying up and down the right wing using his pace and tricks to cause havoc to opposition defenders.
Jonathan Calleri, Argentinian, Forward, 25 years-old, Number 12.
West Ham fans will remember Calleri from his less than impressive loan spell at the London club. He only managed to score one goal for them all season. However, he's been a major figure so far this season for Alavés. In seven appearances he's scored 3 goals. Calleri has been a threat in the air and with the Basque club using this to their advantage you can see him going on to score more goals for them this season.
Manu García, Spanish, Defensive Midfielder, 32 years-old, Number 19.
Alavés' captain has been key to the Basque football this season. The experienced, tough tackling midfielder combines his passing ability with his aerial duels to make sure he dominates the midfield in every game. He also uses his set-piece threat to cause dangerous situations and help his team win games.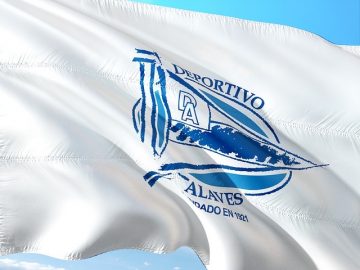 Style of Play
Alavés are not your typical Spanish club. They are not what you would associate with Spanish football. They don't play the pretty tikka-taka football we have become accustomed to watching and enjoying over the years. They seem to go against all the traditions of Spanish football.
Alavés are content not having the ball. They keep a compact shape and make it hard for the opposition to break them down. When they win the ball back they attack with pace and with purpose and score a lot of their goals from counter attacks; a style not used by many Spanish teams.
As well as this they are arguably the most dangerous team in the league from set pieces. They pose a massive threat from these situations, scoring numerous goals from corners and free kicks. They use the height they have in the team to their advantage.
People might also argue they play like a traditional English club using their physicality and height to win games. They are a tough tackling team and physically it is a massive test when teams play the Basque club.
However, they still use the flair and technical ability that is a requirement in the Spanish game, with the added bonus of their physical power making them a force and many teams have struggled against them.
The season so far
Alavés started the season with an away trip to Barcelona. They were not expected to get anything from the game and the quality of the Catalonian club came through as they ran away comfortable winners, 3-0.
A five-game unbeaten streak followed this with some impressive performances. Notably the 5-1 thrashing of Rayo Vallecano where they showed great quality, using flair and trickery combined with aerial presence. This really put into perspective how good this team can be.
After suffering a 2-1 loss away to Levante many experts thought the bubble had burst, especially when their next two fixtures were against Real Madrid and Villarreal.
Real Madrid. The thirteen-time champions of Europe. The "Galacticos". Madrid came into the game knowing they needed to win after their terrible start to the season. Experts expected Madrid to win this game with no difficulties.
However, Alavés had a game plan, they soaked up lots of pressure and kept the score level. Then late on in injury time Alavés won a corner. Using their aerial dominance, they won the first header and the second ball fell to experienced midfielder Manu García who nodded home to get a famous win for the Basque club.
It was their first giant killing of the season. They went into their next fixture full of confidence and put in a fantastic display to beat Villarreal 2-1, again scoring in the fourth minute of added time, a theme that has seemed to occur multiple times already this season.
This result means Alavés now find themselves sitting 2ndin the league with six wins, two draws and two losses, a position few would have predicted at this stage of the season.
Their next three fixtures are all arguably winnable. Next up is a trip to Eibar, then they face newly promoted Huesca, who sit bottom of La Liga. Finally, a trip to Leganes who also find themselves in the bottom three; another game Alavés will be hoping to get maximum points from.
This takes them into December and if they pick up nine points from the next three games coaches and opposition players will start to feel this team really does mean business.
How far can Alavés go this season?
We will have to wait and see, but if they carry on with their current form what can be guaranteed is, goals, passion and lots of last-minute winners.