Theresa May faces prospect of no confidence vote after fierce Tory backlash at Brexit withdrawal proposals

Brexit Secretary and DWP Minister resign, citing opposition to deal

May maintains she has "collective Cabinet agreement"

Corbyn: Deal is "a huge and damaging failure"

Jacob Rees-Mogg calls for PM to stand aside
PRIME Minister Theresa May faced mounting pressure to resign on Thursday after two senior Cabinet ministers quit amidst a growing Tory revolt over her proposed EU withdrawal agreement.
Brexit Secretary Dominic Raab and Work and Pensions Secretary Esther McVey became the latest members of the government to cry enough despite claims from Mrs May that the Cabinet had achieved "collective agreement" on her proposed deal.
As rumours of an impending vote of no confidence in Mrs May's leadership went into overdrive, the Prime Minister faced down withering criticism from all sides in a House of Commons showdown lasting nearly three hours.
Labour Leader Jeremy Corbyn blasted the PM's proposed deal as "a huge and damaging failure", whilst the Lib Dems' Sir Vince Cable reiterated his call for a second referendum on leaving the EU.
But Mrs May doubled down on her Brexit plans, calling on MPs to act "in the national interest" by voting through her proposals. She also dismissed the growing clamouring for a so-called 'People's Vote" and affirmed her belief that "this country's best days lay ahead of it".
Meanwhile, prominent Brexiteer Jacob Rees-Mogg confirmed he had submitted a letter calling for a vote of no confidence in the Prime Minister having read her planned withdrawal agreement. 1922 Committee Chair Sir Graham Brady is obliged to call such a vote if he receives 48 requests from Tory MPs- party sources believe that he is very close to reaching this number.
However, Mrs May has vowed to fight any leadership challenge should she lose a no confidence ballot.
Frenetic 24 hours
A frenetic 24 hours for Theresa May began at Prime Minister's Questions on Wednesday afternoon, when she was berated by Tory MP Peter Bone for having agreed a deal which "will lose [her] the support of many Conservative MPs and millions of voters across the country".
In a show of defiance, the PM insisted the agreement "does deliver on the vote of the British people".
Already stung by a broadside of criticism before the specifics of the withdrawal agreement had even been announced, Mrs May was then whisked to a Cabinet meeting
Already stung by a broadside of criticism even before the specifics of the withdrawal agreement had been announced, Mrs May was then whisked to a Cabinet meeting in which she spent a mammoth five hours trying to convince her top team that her agreement was the only workable compromise in delivering Brexit.
Reports suggested that nine ministers- including Home Secretary Sajid Javid, Foreign Secretary Jeremy Hunt, Brexit Secretary Dominic Raab and Leader of the House Andrea Leadsom- voiced their disapproval of the deal in what Mrs May admitted were "impassioned" talks.
Tory sources claimed that at one point the meeting even threatened to descend into an outright war of words
Tory sources claimed that at one point the meeting even threatened to descend into an outright war of words after Work and Pensions Secretary Esther McVey became 'aggressive and emotional' when her demand for a formal vote on the deal to be taken amongst Cabinet members was rejected outright by Mrs May.
The Prime Minister cancelled a planned press conference but emerged from 10 Downing Street late in the evening to give a brief statement, in which she said that the eventual "collective decision" of the Cabinet had been "to take the decisive step… [to] agree the draft withdrawal agreement".
Tory big beasts lined up to slam the proposals
Despite Mrs May's assurances that the deal "enables us to take back control and to build a brighter future for our country", Tory big beasts lined up to slam the proposals, with former Brexit Secretary David Davis, who quit in July over the state of the negotiations, branding the deal "a betrayal of the referendum result". Ex-transport Minister Jo Johnson, brother of arch-Brexiteer Boris, called the deal "a turkey".
The Prime Minister's tumultuous Wednesday finished with 90-minute crunch talks with DUP leader Arlene Foster, on whom the Tories continue to rely to prop up their majority in government. Mrs Foster warned the PM that "there will be consequences" after dissatisfaction over the deal's 'Irish backstop' clauses.
Mrs Foster also divulged that she would be prepared to work with another Tory leader should Mrs May be toppled.
---
MAY'S BREXIT DEAL- THE SIX KEY POINTS
Immigration- The rights of EU citizens living in the UK and Britons living in the EU are to be guaranteed. The deal proposes visa-free travel for short-term border crossings between the UK and EU. Freedom of movement will be brought to an end, with the UK establishing its own skills-based immigration system which does not afford potential EU migrants any considerations over those wishing to enter the UK from the rest of the world.
'Divorce bill'- The UK will pay £39billion in severance payments to the EU.
Laws- Britain will regain full control of its laws and regulations. However, any legal disagreements relating to Leaving the EU will be decided upon by European Courts.
Trade- The deal suggests there will be no fees, charges or tariffs for goods moving between the EU and UK, along with a new fisheries quota to allow British trawlermen to continue to fish in EU waters and vice-versa.
British Overseas Territories- Mrs May extracted concessions from the EU on Britain keeping control of overseas territories. Gibraltar will remain wholly sovereign and covered fully by the withdrawal agreement, whilst the RAF will retain their base on Cyprus.
The Irish border- There is to be no hard border between Northern Ireland and the Republic of Ireland. The 'backstop' ensures that even if a trade deal cannot be agreed by 2021, there will continue to be no hard border.
---
If Wednesday afternoon was tough for the PM, it proved to be a mere doddle in comparison to the political maelstrom which engulfed her government on Thursday morning, as the bitter dispute on Brexit morphed into a matter of survival for the embattled premier.
At 8.45am, less than two hours before Mrs May was due to take questions from the Commons on her withdrawal agreement, Brexit Secretary Dominic Raab announced his bombshell resignation.
Once a staunch May loyalist, Raab (who had served just five months in the job) said that he "cannot in all good faith support the proposed deal" and accused the PM of breaking manifesto promises.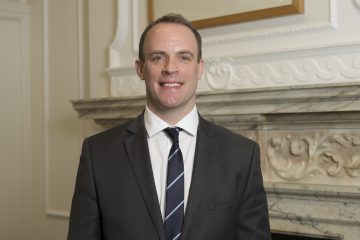 Bookmakers immediately installed Raab as the new 4/1 favourite to take over as Prime Minister amidst feverish speculation that he may launch a leadership challenge.
90 minutes after the Brexit Secretary's resignation, Work and Pensions Secretary Esther McVey also quit the Cabinet, having clashed with May in the previous day's meeting. The staunch Brexiteer said she "cannot defend… and vote for this deal".
Bombardment of queries
The Prime Minister then entered the Commons to give a statement on her plans for Brexit, after which she received a three-hour bombardment of queries from all sides of the house.
Though she rebuffed criticism from opposition party leaders Jeremy Corbyn, Sir Vince Cable and Ian Blackford, she floundered when quizzed by Labour's Yvette Cooper on national security arrangements, and cut an increasingly isolated figure as a lengthy succession of Tory MPs stood up to denounce her and the proposals.
The exchanges climaxed when staunch Leaver Jacob Rees-Mogg, chairman of the influential European Research Group, asked Mrs May to explain why he should not call for a vote of no confidence in her leadership. Upon conclusion of the Commons questions, Mr Rees-Mogg declared outside to the waiting media that he would indeed be adding his written request for a vote to Sir Graham Brady's list.
she told reporters she believed in it "with every fibre of [her] being"
An evening press conference saw the Prime Minister reaffirm her commitment to the deal, as she told reporters she believed in it "with every fibre of [her] being".
A new Brexit Secretary is expected to be appointed on Friday. Environment Minister and leading Leave campaigner Michael Gove is thought to be the most likely candidate.