Stemming from Commedia Dell'Arte theatre in Italy in the 16th century, pantomimes are usually a modern twist on a fairytale, but there's so much more to expect if you plan to visit a pantomime this festive season.
Celebrities
With almost all productions featuring a star in their cast list it is no surprise that the first is Celebrities.
Their work in small towns can inspire audiences to check out the stars' latest endeavours whilst a member of the public seeing their favourite soap star is near can encourage them to visit their pantomime and support their local theatre too.
All in all – everyone's a winner!
Characters
There are 6 characters to look out for:
Principal Boy
Principal Girl
Panto Dame
Comic Lead
Good Fairy
Villain
The role of the Panto Dame is played by a man, it also used to be common for a woman to play 'Principal Boy', with HRH Queen Elizabeth II once playing it in a wartime production of 'Aladdin'.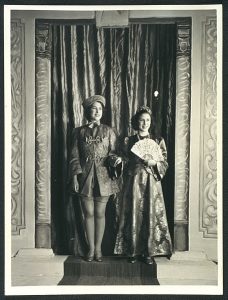 If it's good enough for the Queen, it's good enough for us!
Comedy
Perhaps the most appealing quality of pantomimes is their laugh out loud comedy aspects, in particular the slapstick humour and audience participation involved.
From the throwing of cream pies to the comedic timing and tomfoolery of those on stage, it's no doubt that s pantomime is a family day out.
So all together now – "He's behind you!"
More like this