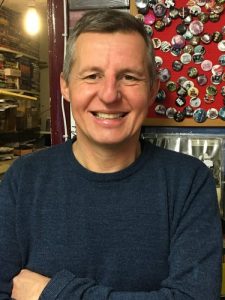 More than 3.2m Vinyl and Cassettes were sold last year, an increase of 53% since 2015 as people are embracing physical formats of music again.
Wayne Hopkins aged 52 from Poole who is the Manager of Red Rock Records said: "yes, today I've sold loads, mostly older people that had them when they were young are buying them but also quite a lot of young people as well."
"The sound quality of records
is better than digital and most customers buy records as keepsakes."
Due to the deaths of music icons such as: The Beatles and David Bowie there has been a significant growth in sales.
After David Bowie's death he became the bestselling vinyl artist of 2016.
Furthermore Mr Hopkins said: "I sell both new and second-hand vinyl but mostly second-hand" which implies there is an entire industry of people dedicated to purchasing, collecting, and reselling vinyl mainly because it keeps its purchase value.
Since 2013 the popularity of vinyl music has risen not only in Bournemouth but also across the world.
However, the amount of record shops in Bournemouth are starting to go out of business due to the take-over of technology.
Simon Harvey from Hertfordshire who is the Executive Manager of The Vault said: "that the future of the vinyl industry will still be okay but shops will certainly go."
"Records are very popular online and people buy online across the board these days which explains why more and more shops are closing."
See Also:
The Evolution of Recorded Music Through the Ages Timeline
Exclusive: Find out what the Bournemouth public had to say about their opinions on Vinyl music